Top 7 Tips for Upgrading Your Kitchen Without a Full Renovation
If your kitchen has been looking a little outdated and could use some upgrading, you may have been considering a home improvement project to help make your kitchen modern and unique. Doing a full renovation, however, can quickly become prohibitively expensive, not to mention time-consuming and possibly a logistical headache. The good news is, you don't have to carry out a full-on renovation to get the kitchen of your dreams! There are several small changes you can make to help your kitchen look better than ever without having to break the bank. If you're stuck for ideas, here are a few easy changes you may want to consider making.
1. Update the Kitchen Counters
You may not think about them often, but your kitchen counters make a big difference in the overall look of the space. Even just replacing your counter handles can help the kitchen match the rest of your décor better. You don't have to fully replace the countertops to change their feel. Simply adding new hardware or some tablemats in strategic places can transform the feel of your counter space. Additionally, you can always focus on de-cluttering the counters by removing any kitchen appliances you're not using on a regular basis. When the counters are less crowded, it can make the entire kitchen feel more open and spacious.
2. Add Unique Interior Details
If part of the reason your kitchen doesn't totally appeal to you right now is because it just feels too bland or generic, adding in some unique interior details can help personalize the space to your liking. For example, you can add framed family photos on the walls, meaningful magnets to your fridge or small, seasonally-themed decorations to your countertops. By switching up the details, you could potentially impact the big-picture feel of the entire space.
3. Paint the Cabinets
If your cabinets are old and outdated or have peeling paint coming off of them, it may be time for a fresh coat of paint. This is a straightforward way to completely change the look of your kitchen, and the best part is, you don't have to hire a professional to do it! In fact, you can easily paint your kitchen yourself with a little tape and some paint buckets and brushes. Upgraded cabinets instantly make the entire kitchen look more modern. You can even change the color to match the rest of your décor and color scheme!
4. Add Wall Shelving
If your kitchen is overly crowded and you're not sure how to make the most of your space, you may not have considered using your walls for extra storage. Instead of over-crowding your countertops or trying to shove all your items into small cabinets or pantries, consider installing a few strategically placed wall shelves. This not only earns you easy additional storage space but can also serve as an eye-catching design feature. With a beautiful paint color or classy design, the shelves can artfully display your items and act as a focal piece for the kitchen. You can store cookbooks, valuable glassware or pretty china plates, for example. This is not only a way to clear out some clutter, but also an easy conversation starter when you have guests over!
5. Install Lighting Under Your Cabinets
If you've ever looked at photos of professional kitchens and wondered how the light hits every part of the room so perfectly, it may be because there's strategic lighting placed throughout the kitchen that helps bring out the best in the space's design. You can easily replicate part of this look at home by installing lighting under the cabinets. Today, LED battery-operated lights can be cheaply purchased at home goods stores and quickly installed without professional help. This can give your kitchen a fancy, almost museum-like feel without breaking the bank. Additionally, this lighting makes your kitchen look good even at night!
6. Change the Wall Color
If your kitchen is functional but just doesn't quite match the rest of your home décor, consider changing the wall color to make it pop. This is an easy way to make the whole room feel updated, and can help bring your kitchen in line with the rest of your home. Keep in mind, however, that the color you choose should go well with your counters and cabinets.
7. Add a New Appliance
Finally, if you have a little extra wiggle room in the budget, you may want to consider making one new appliance purchase. If you have an old blender, for example, that's been sitting on your countertop for years and is an eyesore, consider upgrading to a new one. Having even just one new piece of kitchenware in the room can help the whole room feel more expensive and upmarket.
The kitchen is the heart of the home, and when it doesn't look its best, it can drag down the rest of your house's look and feel. Whether you're whipping up delicious dinners or simply hanging out with family, having a unique, modern kitchen can make a big difference in your overall quality of life. If your kitchen badly needs an upgrade but a full-on renovation would be too expensive, time-consuming or stressful, there are a few simple changes you can make to transform your space without having to put in too much money or effort. The next time your kitchen needs a new look, keep these top ideas in mind. You could be on your way to a dream kitchen before you know it!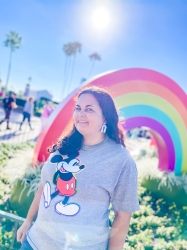 Latest posts by Krystal | Sunny Sweet Days
(see all)