Kick-Off a Productive Day with Morning Pages
This shop has been compensated by Collective Bias, Inc. and its advertiser. All opinions are mine alone. #CommunityCoffee #BeYourBoldest #CollectiveBias
Daily journaling, in general, is always a good practice. However, morning pages are especially beneficial, which is why so many successful people swear by them. Morning pages are a form of releasing your thoughts by jotting them down right after you wake up or while you enjoy a hot cup of coffee! Inspired by Community® Coffee, here's how to kick off your day and stay energized throughout!
I was pretty excited to see that Community® Coffee has a bolder roast to kick start your day! The Community® Coffee 2X Caffeine Dark Roast Single-Serve Cups and the Community® Coffee 2X Caffeine Medium Roast Single-Serve Cups provide an easy solution to getting more caffeine without a lot of fuss. Now in its 100th year, Community Coffee Company is the LARGEST family-owned and operated retail coffee brand in America. Can you believe that for over four generations they have been making rich and smooth coffee with a commitment to quality?
What's great about these new coffee pods are that they offer double the caffeine. This dark roast combines rich, caramelized flavor with an extra boost of coffee extract to get you through your day. Plus, they are made from only 100% select Arabica coffee beans.
It's my new go-to for starting off my day boldly! Paired with my morning pages, I can take on the tasks each day with a clear mind. I get up, stay up, and find a pick me up in my new routine. Let me tell you about my morning pages to help you get your day started off right with a bold cup of coffee!
What are Morning Pages?
First, start by gathering a notebook or journal and a pen to use. Set this on your nightstand or somewhere nearby to start your morning pages first thing when you wake up. Morning pages are most successful when you journal immediately before starting your day.
You can start journaling about whatever comes to your mind. Keep writing until you have completed roughly three pages in your notebook or feel free to continue until your thoughts are complete. You must always handwrite your morning pages, so put away the smartphone!
For the first half-page or so, you may find yourself writing about your dream the night before or how you are feeling that morning. Soon you may start writing about the goals for the day or something that is weighing on your mind. Be patient and committed with your morning journaling and you'll see results.
Set aside 30 minutes each morning to complete your morning pages. You will get through them a bit faster when you get used to writing them.
The best practice is to do your morning pages right away when you wake up because at that time, your mind will be too tired to censor your journaling. You'll be able to put down more honest thoughts. Smartphones can stifle creativity. This is why it is so important to handwrite your morning pages. By putting pen to paper you develop a stronger connection to your words.
It's so easy to jump into your morning pages when you wake up by grabbing a journal from your nightstand. Have all your morning pages supplies waiting for you so you don't have to get up and search for them.
The Benefits of Morning Pages: There is no wrong way to journal daily. Morning pages are a great way to encourage a stream of consciousness, bullet journaling, and planning out your day.
Free to Express Yourself: Your morning pages are your own to make whatever you want of them. While writing about how you feel is a common option, there is no limit to the topics you can cover. You may use your morning pages to map out goals for the next few weeks and months, or take a more long-term view of what you want to accomplish in life. You could use your morning pages to write your own short stories.
The sky's the limit to what you write. You may even journal more than three pages.
Stimulates Creativity: With a busy society, our creativity can become dull. Artists and other creative types are not born that way, they put in the work to develop their creativity. When honing your creativity skills, one of the most important factors is devoting time to practice and to find inspiration. Morning pages can help with this.
One of the most common reasons people fail at creating anything is because they're waiting for inspiration to strike instead of setting aside time to work at it. When you do your morning pages, you're making a commitment to put in the work.
If you type ideas onto your smartphone, there's a disconnect between you and what you're creating, and you can immediately edit anything you don't like before you've even fleshed it out. The same isn't true when you're using a pen and paper. The ideas flow much better this way, especially when you're just waking up.
Keep in mind that stimulating creativity isn't only useful for artists. If you're an entrepreneur, your morning pages could be where you come up with great new business ideas. Same goes for those managing a household. Ideas may strike to help organize or coordinate schedules more efficiently.
Clear Your Head: Morning pages help reduce anxiety by forcing you to be in the present moment. How do they help with that? They allow you to clear all those little thoughts and stressors from your mind so that they aren't weighing you down the rest of the day.
We all know how overwhelming it is to have racing thoughts flooding our minds as we focus on what needs to be accomplished that day. By putting those thoughts to paper in the morning, you set yourself up for a more productive day.
Teaches You to Value Your Time: The interesting thing about morning pages is that even though you're adding a 30-minute task to your daily routine, you will find yourself making better use of your time throughout the day. One reason is that by unloading your stressful thoughts and distractions onto your morning pages, you can stay on track during the day.
When you see how much those 30 minutes of writing can improve your life, you'll want to use the rest of your time just as wisely. That means less procrastination and killing time on mindless tasks. You'll move through life far more efficiently.
After I start my morning pages, I'm ready to sit down to a wholesome breakfast. If my morning pages has inspired more creativity or for me to make a longer written action plan for the day or week.
Morning Pages Ideas
Morning pages provides you with a mental exercise. There is truly no right or wrong way to journal each morning. If you feel unsure on how to jump in writing your morning pages, here are some ideas that may help.
What's on Your Mind
This is the most common choice for morning pages, as it's great for clearing your head and ridding yourself of stress. You're essentially playing your own therapist here by analyzing how you're feeling and why you're feeling that way. Write and release I like to say.
The key here is to keep asking yourself "why" as you write about how you feel. The first paragraph or two may just be a surface-level look at things, but you'll make more progress as you break down your thoughts further.
Let's say you wake up feeling worried. In your writing, you can pinpoint exactly what's causing that worry and how you're going to handle it. If you hadn't done your morning pages, you may have spent your whole day stressed.
Plan for the Day
Your morning pages are a great place to write what you're going to do for the day, including everything from the mundane tasks to bigger goals. By writing all these in the morning, you're less likely to forget anything. Some of my best ideas come to me when laying in bed.
One trick for improving your life when you plan out your day is to visualize everything as you go with a positive mindset. By handwriting your plan for the day, you will visually see the words on paper and have the act of moving your hand to form each letter. This helps with remembering.
Instead of just writing that you have a work meeting that day, write that you're going to have a fabulous meeting where you'll confidently explain how the latest project is coming along. Often all it takes is belief that things will go well, and positive results will follow.
Brainstorming Session
If you're trying to get those creative juices flowing, you could use your morning pages to brainstorm new ideas. Sometimes you'll find that ideas come naturally even as you're writing about other things. You could be writing about a recent roadblock, which then gives you an idea for a new product.
It can also be helpful to dedicate entire mornings of journaling to brainstorming. Your morning pages give you a place to work through ideas, even ideas that may seem silly at first. Remember that not every idea is going to be brilliant, but you should still give them all a chance.
Combining Different Ideas
As you decide how you're going to approach your morning pages, consider combining different ideas and giving them each a portion of your writing. You could spend your first page and a half on getting your thoughts down and clearing your head, and then use the next page and a half on what you're going to do that day or week.
Or, you can just dive in and see where your writing takes you. It's fine to start your morning pages talking about how tired you are and how much you'd rather be sleeping. The stream-of-consciousness approach tends to work very well for morning pages, and you may be surprised with what you come up with. Each day may be different for you as you get into a rhythm of morning journaling.
I hope you start your day off right with Community® Coffee's new bolder varieties. Click here to learn more and find it in your local stores. Try creating morning pages to help you stay focused and energized throughout your day. Let me know how it goes for you!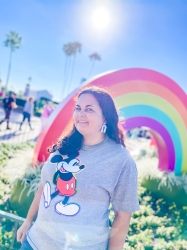 Latest posts by Krystal | Sunny Sweet Days
(see all)