7 Tips For A Productive Home Office
It's never too late to get organized. Since summer is starting soon, I know that for many of us our daily routines will change. With little ones at home, it might hard to have a productive home office. I'm trying to stay motivated so that I don't lose focus on my everyday business goals. Knowing how to organize your office space to be productive no matter what the business is essential.
7 Tips For A Productive Home Office
Keep a daily to-do list. If your goal is to have your work productive in your home office, a to- do list is a must. There are multiple ways you can do this, but I prefer using multiple methods to keep myself accountable. Start with a simple old-fashioned to-do list, but also keep a daily, weekly and monthly task list and calendar. Using a desk calendar is great, but you may also want to utilize some of the many free online office calendar options to sync your families activities so you can make sure you don't miss anything.

I personally use an Erin Condren Hourly Life Planner for my daily work schedule and home appointments. I also recently started using a Passion Planner for business launches and goals. Two planners might sound overwhelming, but I promise that it really does help my everyday life!
Keep an organized home office space. It's important that your home office actually be organized. If things are scattered, it is hard to keep track of client work, deadlines, invoices and even things like your business expenses. Your home office setup should include a proper desk, filing systems, an inbox for urgent bills and invoices and of course a method of tracking your daily tasks. You can read more about my home office essentials or stock your office with budget-friendly office supplies.
Keep the kids out. This may sound harsh, but a home office environment can get easily cluttered and become more of a play room if you allow the kids to join you there while you work. Set designated areas with only a few things they have access to if you must have them in your office. It is, however, best in your home office setup to keep the personal business out of the office during your office hours.
Use wall space effectively. Think about installing shelves or hanging bulletin boards to add more room for your office. You can hang up important documents, calendars, or create a vision board for inspiration! Shelves can also provide a place for additional decor for photographs or artwork. I just hung a magazine rack so that I can keep my monthly reads organized and off the counter.

Turn off your phone. Do you realize how often your phone distracts you? Turn the volume off your cell phone or turn it off completely. Otherwise, your phone won't be a distraction with notifications, text messages from friends or even family members calling to chat because you "are just at home all day." I typically turn off notifications for Facebook, Periscope, and Twitter and keep them off 24/7. I don't mind Instagram notifications since they are not as frequent, and it is a platform that I regularly use and enjoy. Snapchat does help me fill my days with random photos and videos, so I never truly turn my phone off.
Turn off social media. This is a huge distraction for anyone who is working from home. While some virtual assistants and business owners have to work on social media for their clients, most of the time it can be disabled using a browser extension or the tabs closed while you do other projects. It is hard, but turning off social media while you work is one of the only ways to find real productivity in your home office.
Invest in your business. When you consider the hours of work you put into your business, you really need to invest in it. That means doing regular repairs on things like your computers, phone systems, and equipment you use to create goods with for sale. If you don't maintain what you need to perform your job, when it goes down you won't be productive at all.

I also still find value in investing in social media tools that help streamline my blog work and in photo editing software which includes a monthly subscription for Photoshop.
Having the right home office setup for a productive home office environment includes proper equipment, schedules and lots of hard work and dedication. Your home business no matter how big or small can be successful when you consider these tips for making it even more productive.
[amazon-related-products keywords="office organization"]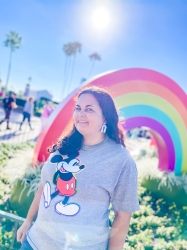 Latest posts by Krystal | Sunny Sweet Days
(see all)