How To Organize the Perfect Easter Potluck Celebration at Home
Easter is the perfect occasion for a family potluck at home. These meals can either be fun and relaxing or borderline chaotic and stressful. To ensure that this year's Easter get-together stays fun, light-hearted, and delicious, follow our quick and easy-to-follow guide!
Let Your Theme Do the Talking
Get your party off to a great start by adding a theme. Don't worry. It doesn't have to be complicated. A theme can be as simple as adding a color scheme, putting out a special tablecloth, a few balloons, and a banner. If you want to get more creative, however, don't let us stop you.
From bunny themes to more unorthodox ones, let your imagination run wild. You can even make it more fun by coordinating your menu with your theme.
Since it's a potluck, you can ask your guests to help you out with decorative elements.
Get Your Food Line-up Ready
Potlucks entail less cooking for the host but more coordination with the guests. Since they'll each be bringing dishes, you'll want to send out information about the theme and possible dishes as early as possible.
To give your guests a heads-up, send invitations and updates. Give them a professional touch by using PosterMyWall's online flyer maker. You'll find a wide variety of eye-catching Easter flyer templates on the site so you focus on what you want to say instead of having to design something from scratch.
Provide Serving Guidelines
How many people are coming to your Easter party? You'll have to let your guests know so they don't end up preparing too much or too little food. Remember, people seldom eat full portions when there are many food options. Manage the expectations of those who will be bringing food to avoid having too much leftovers.
Label the Food
Ask your guests to label the food and list the main ingredients and possible allergens. Alternatively, you can also ask them to send you the information so you can print them in one batch while following your theme.
This doesn't just make your party more enjoyable for people with sensitivities and special diets but also more fun for guests who are curious about the different dishes.
Ask Guests to Bring Ready-to-Serve Dishes
Potlucks are all about enjoying quality time with friends and family. To minimize the time you spend preparing food, ask your guests to bring dishes that are ready to eat and require little preparation.
Since it's hard to avoid preparations altogether, ask in advance if your guests will need an oven or a stove to warm their dishes.
Last-minute changes and adjustments are inevitable. Even if nobody asks to use your kitchen for last-minute prepping, it's good to have your kitchen ready and organized for any last-minute requests.
Get Your Utensils and Serving Dishes Ready
Make sure the table is set before your guests start waltzing through the door. If you don't have enough plates, serving platters, napkins, and silverware, you can assign the responsibility to someone who isn't interested in cooking. By doing so, they can contribute to the potluck even if they aren't big on cooking.
Keep the Bar Stocked
From cocktails, wines, and beers to bottles of sparkling mineral water and pitchers of ice water, your bar table should have a variety of drinks.
You should also have glasses, bottle openers, a corkscrew, and an ice bucket laid out so guests can serve themselves.
Want to keep the bar cost low? Make a big batch of punch. If you're focused on other potluck essentials, you can also ask someone to help by bringing drinks.
Return Containers and Distribute Leftovers
Here's an after-party potluck essential: make sure everyone goes home with their dishes and utensils. This will help you avoid chasing guests after the party and having them ask to get their serving dishes back.
You should also provide take-out containers and ziplock bags for guests to take leftover food in. After all, you don't want to be stuck with a fridge full of food knowing that you can't finish everything.
Small Details, Big Impact: More Potluck Ideas
Here are other small things you can do to make your Easter potluck more special and memorable:
Create place cards for the dishes. This will help avoid confusion on where to place the dishes. You can also go a step further by printing menu cards for your guests.
Organize games and activities. If you're unsure about where to start, these potluck games can inspire you.
Have a playlist ready to set the mood.
Serve snacks and fruits at the start of the event so guests have something to munch on before all the food arrives.
Wrapping Up
Everybody loves a good potluck. If you're hosting this year's Easter celebration, these tips are sure to take your festivities up a notch. Use our ideas and use PosterMyWall for flyers, updates, invitations, and more.
Don't forget to tell us how your Easter potluck went in the comments below!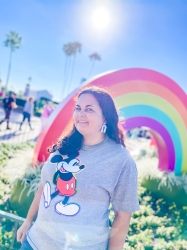 Latest posts by Krystal | Sunny Sweet Days
(see all)