Fun Family Fall Activities
Back to school season is here, but fall is just around the corner! Whether you're a preschooler, a pre-teen, or a soon to be college student, here are a few ideas to celebrate the first day of fall. Seasons are a simple way to promote education and try new flavors of food, explore the outdoors, and get involved in your local community. Here are a few activities and ideas to celebrate the first day of fall with your family!
First Day Of Fall Activities
Rake leaves. Kids love raking leaves and playing in them. Give your kids some work gloves, rakes and bags to help you gather up the leaves. Let them know they can play all the want, but at the end of the day you want the leaves gathered and bagged for easier disposal.

Make a leaf craft. There are a ton of great fun leaf crafts out there. You can gather different types of leaves that have fallen and use them to make a leaf rubbing with paper and crayon. You can also gather them to create a wreath, centerpiece or similar. Pull out the paints and card stock and let your kids paint the leaves, or paint their hands to make a hand print leaf print.
Paint pumpkins. Painting can be way more fun than carving! Use paint, stickers, glitter, and more! You might love this Easy Halloween Holiday Craft too!
Visit a pumpkin patch. Pumpkins are a favorite in the fall, and taking your kids to a local pumpkin patch to pick out their own pumpkin to carve or cook with is a favorite first day of fall activities for kids. Many pumpkin patches also have fun activities like a hay maze, hayride or even carving stations.
Make homemade apple cider. Apples and apple cider are highly popular during the fall months, and making your own is a fun thing to do with your kids. There are many recipes out there, but a simple fun way to make your own is to pour 2 quarts apple juice and 1 small package of red hot candy into a slow cooker and heat for 1-2 hours. This melts and flavors the candy to create a super delicious apple cider kids can make all by themselves.
Work a fall sensory bin. For younger kids, a sensory bin is a super fun way to spend some time learning about shapes, textures, smells and fall items. You can add some popcorn kernels, a few leaves, some acorns or other nuts and then create a separate sensory activity with cotton balls and scents or essential oils that are fall themed like apple, pumpkin, vanilla and similar.
Try moon sand! We love pumpkin moon sand for a fun sensory activity.
Make a leaf painting. Instead of using paint brushes, use a leaf dipped in paint to create a unique piece of art. Kids will have fun with paints, and you get to teach them about different artistic mediums.
Go for a nature walk. There is no better time to go out and check out the world around you than in the fall. Go for a nature walk to check out the changing colors of the leaves, as well as gather fun items like pine cones, acorns, leaves and berries.
Visit a corn maze. I wish I had one closer because these are my favorite!
Make your own pumpkin spice lattes. Skip the coffee shop, and sample your way through coffee creamers!
Go glamping with cozy blankets and sweaters. It's so hot in Florida that fall is an ideal time to camp!
These first day of fall activities for kids are perfect for spending a fun-filled afternoon celebrating the changing of seasons with your family as the back to school season comes to a close.
Fall Fun For Families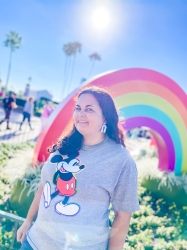 Latest posts by Krystal | Sunny Sweet Days
(see all)