7 Everyday Items You Can Repurpose
This Earth Day holiday is a wonderful time to start reducing, reusing, and recycling. If you are looking for more ways to start reusing the items you already own, below you will find ideas for seven everyday items you can repurpose waiting for you. Reusing and repurposing items you already own can be fun and easy, and once you get going you won't be able to stop. Here are seven fun ideas to get you started!

1. Wine corks. Wine corks have so many uses! You can slice them and glue them together to make coasters, ornaments, or even collage them and frame them. Give them to children to use as stamps, or you can let them float them in water like little boats. I have used wine corks as Christmas ornaments, a card holder, and even mini trees for decor!

2. Glass bottles. The uses for glass bottles are endless. Paint them with spray paint and use them as vases or for  sun catcher. They are also perfect for holding small pieces, loose change, and other small parts. If you've got a glass jar collection, read these tips for more ideas to reuse glass bottles and mason jars!
3. Plastic bottles. Fill plastic bottles with half water and half oil to make cool sensory bottles for kids. Add glitter and glue the lid back on and they will love shaking them up! You can also cut the top half of the bottle off and use the bottom as a scoop for dried goods. Or, use the bottom half to hold pencils and office supplies.

You can also make vases with them with a bit of paint for color! Try this easy Earth Day Vase tutorial for a fast way to reuse your plastic!
4. Tin foil. Don't toss out that used tinfoil! Use it to fill up the bottom of flower pots so you don't have to use as much soil. It makes excellent filler and can save you tons of money. Just keep a bag in the kitchen to toss that used foil in so you have it ready and on hand.
5. Old t-shirts. Does that old t-shirt have a hole or stain? No biggie! Cut it into squares to use it as a dusting cloth. Or, cut it into strips, braid it, and give it as a dog chew toy. You can even just shred it and use it as stuffing in projects such as pillows, pin cushions, etc.

You can also give old white shirts new life with dye! Read this tie dye tutorial or try adding a punch of color to socks!
6. Butter dishes. When the butter is gone, don't toss that dish! Rinse it out well and use it to store leftovers, craft supplies, hardware, dried herbs, or use it to take your lunch to work. It makes the perfect storage container and is quite durable.
7. Pill bottles. When your prescription is gone, remove the label and wash the container out well. It makes a great travel bottle for small toiletry items, small jewelry pieces, over the counter medications, hair pins, and other small bits and pieces. Plus with the durable locking lid, you don't need to worry about anything falling out during transit! Why not dress the bottle up with washi tape while you are at it?
Are you inspired to start reusing and repurposing? Give these seven everyday items you can repurpose your consideration and see how fun it can be.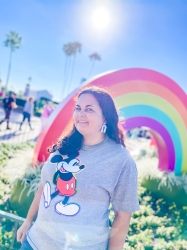 Latest posts by Krystal | Sunny Sweet Days
(see all)