How to Save Money at Farmers Markets
Spring is here, which means it is prime time to head to your local farmer's market and see what is being offered! Your local farmer's market will have all sorts of fresh produce, flowers, herbs, fresh meat, and everything else you need for your spring kitchen and décor. But how can you be sure you are getting the best buys at the best price? Take a look below at 7 farmer's market shopping tips, perfect for getting the most out of your money the next time you hit the market up.
Farmers Market Tips
1. Go early. This may seem like a given, but if you arrive at the market when it opens, you get first pick of all the freshest deals! While most vendors won't budge or negotiate on prices at this time, you can at least make sure you get the freshest items that have come straight from the garden to you. It may also be less busy, which gives you time to ask any questions of the vendor you might have.
2. Bring your own bags. It is wise to bring your own re-usable shopping basket or bags when you visit the market. Not only does it reduce waste, but it can help you check out quicker. The vendor is sure to appreciate you having your own bag, and checking out is as quick as handing over your cash and dropping the item in your bag.
3. Ask for suggestions. The vendors at your local farmer's market are a wealth of knowledge. Don't hesitate to ask them for cooking suggestions, product suggestions, or care suggestions for the products you buy from them. They want you to experience success and enjoy the item, and are typically happy to help!
4. Ask about a bulk discount. If you are purchasing flowers, fruit, or some other item in bulk, don't hesitate to ask for a discount. You can simply say, "do you offer a bulk discount?" and see what the vendor says. At worst they will say no, but at best you could get the items you want for a little less. If you need to buy a large amount of produce for canning or a large amount of flowers for landscaping, this could translate to some real savings.
5. Pay in cash. Many vendors have to pay a fee on credit card transactions, so try to use cash whenever possible. This will make your transaction go quicker, produces less waste, and saves the vendor some money too which can help them keep lower prices.
6. Try shopping at the end of the day. If you can't be an early bird as suggested in suggestion #1, try shopping at the end of the day. While pickings might be slim, the vendors may be in more of a mood to negotiate. Selling some last minute items means less they have to pack up and take home, and that could result in deals for you.
7. Don't hesitate to make requests. If you shop the market weekly, don't hesitate to request some of your favorite items from vendors. If they know ahead of time, they can be sure they have what you need already the following week. You can even place a specific order so when you return, your items are packed and ready to go and all you need to do is pay.
Farmer's Market Tips
Here are my favorite products to take to the market or to use after I have shopped!
Colorful Totes

Produce Bags

Cookbooks

Shopping at your local farmer's market is a great way to get fresh food, flowers, and more. Keep these shopping tips in mind the next time you head out and see how enjoyable they can make the experience!
[amazon-related-products keywords="farmers market"]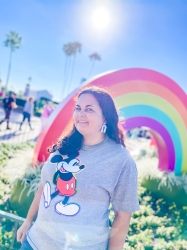 Latest posts by Krystal | Sunny Sweet Days
(see all)