Sweet Strawberry Surprise Pudding
Valentine's Day is full of sweet treats and snacks, which is why the month of February can be oh so very fun. I don't shy away from extra sprinkles or chocolate during this time of year, and I just made a sweet strawberry surprise snack using Snack Pack pudding cups. Whether you're hosting a party at home or need to bring in treats for a classroom, consider using pudding cups to simplify your process.

Dress up your dessert with extra special mix-ins and toppings, and the possibilities are truly endless. For my creation, I started with in-season strawberries and pudding cups.
While you can customize your snack in so many different ways, here is how I made these strawberry surprise snacks. I needed to also have Reddi Wip, semi-sweet chocolate chips, Valentine's day sprinkles, and ice cream cones.

Start by melting half a bag of chocolate chips in the microwave for about a minute. Stir every twenty seconds or so until creamy.

Dip an ice cream cone into the melted chocolate and add sprinkles. Let dry.

Open up a Snack Pack pudding cup and top with Reddi Wip. Add a strawberry.

Cover each pudding cup with an ice cream cone. Do you get why it's a strawberry pudding surprise? 😉

Voila! One sweet strawberry surprise. The best part about these snacks is that they can be made in advance and stored just like a cupcake or you can have guests customize their creations at your own home Valentine's Day party. Perhaps the best way is to enjoy these cozy on the couch after dinner with your family.

Whichever way you choose is right. There is no wrong way to enjoy a snack! Though, I do suggest using the ice cream cone to enjoy your pudding. It makes a nice scoop! My toddler kind of loved it, and the combination of sugary sprinkles, fresh fruit, and chocolate pudding was out of this world.
Valentine's Day Desserts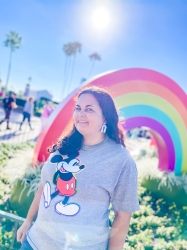 Latest posts by Krystal | Sunny Sweet Days
(see all)