Meal Planning Tips: Lunch Meal Plan Printable
This post is sponsored by BabbleBoxx.com on behalf of Healthy Choice.
I have been spoiled for the past few years. My husband worked at home with me, and he treated me to home-cooked breakfasts, lunches out, and he made dinner most nights. He returned to a more traditional job with 9-5 hours, and now I am in charge of all the meal planning, cooking, and some of the cleaning. Hello, overwhelm! I am trying to work on creating new systems that work for our family, but most of all, I need to make sure that I plan my meals ahead of time so that I have quick options for my busy days. Since I work from home, I have the freedom to run out for a quick lunch…but I don't WANT to. I want to maximize my work day with healthier options and easy to prepare meals in a variety of flavors. I have long been a Healthy Choice fan, and I used to pack one for lunch every day when I worked outside of the house. However, it has been a while since I've had one, and I am thrilled to see all their new options!
HEALTHY CHOICE POWER BOWLS
Breakfast and lunch is a breeze with Healthy Choice Power Bowls. All of the Power Bowls have been created to offer leafy greens, proteins, grains, and steel cut oats. Busy is no longer an excuse. You CAN eat better-for-you meals no matter where you are! Plus, the serving bowls are made from a plant-based fiber that is recyclable. I'm obsessed to know that I won't be heating up my meal in plastic which is an important factor for me when it comes to meal planning and prepping leftovers.
Morning Bowl

Healthy Choice released four morning Power Bowls to provide busy foodies to have a quick, nutrient-dense breakfast. There are four different varieties, and I tried the Turkey Sausage & Egg White Scramble. I prefer egg whites, so this was a welcome flavor! This bowl includes turkey sausage with egg whites and vegetables served on top of steel cut oats, farro, buckwheat and red quinoa with a creamy avocado sauce.
If you want to try other morning bowls, they also have Unwrapped Burrito Scramble, Roasted Red Pepper & Egg White Shakshuka, and Pesto & Egg White Scramble. These ingredients deliver nutritious benefits like 10-15 grams of protein and 3-5 grams of fiber.
Power Bowl
Healthy Choice launched vegan and vegetarian Power Bowls, and they are a great addition to your weekly meal plan. In under five minutes, I had a delicious lunch with the White Bean & Feta Power Bowl. This is a vegetarian power bowl that includes white kidney beans with kale, chard & spinach served on top of brown & red rice, red quinoa and black barley with a red wine vinaigrette topped with feta cheese, dried cranberries & roasted pepitas.
While I know it is important to take a lunch break on a busy workday, I often have a full schedule with many tasks that need to get done. I have no time to dedicate to preparing something complicated, so I am thrilled that I can prepare a veggie bowl in a hurry. I can't wait to try the other flavors that include Mango Edamame, Falafel & Tahini, and Cauliflower Curry. These ingredients deliver nutritious benefits like 10-16 grams of protein and 7-16 grams of fiber.
Meal Planning Inspiration
When you're having a busy week and want to focus on eating healthier options, take a breath and write it down. This is exactly how I meal plan each week. I skip the complicated recipes and avoid feeling overwhelmed. I look to Healthy Choice to frame my weekly meal plan with quick breakfasts and lunches when I am busy, and I try to plan two or three dinners a week and eat leftovers on the other days. See how easy that sounds! I also know I'm getting in my leafy greens since Healthy Choice Power Bowls have a base mixture of whole grains like red quinoa and whole grain barley, greens like kale, chard and spinach, and proteins.

To inspire you to create your own plan with healthier choices in mind, download these printables to help you get organized.
Breakfast Meal Plan
Use this to help you track your weekly breakfasts and lunches. Start with simple solutions like Healthy Choice Power Bowls and build out around those.
Good luck on your journey! What is your favorite Healthy Choice Power Bowl? 
Lunch Meal Planning Ideas
Pin this: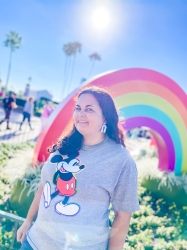 Latest posts by Krystal | Sunny Sweet Days
(see all)