7 Days of Spring Cleaning
This post was made possible through the support of Goodwill. All opinions are my own.
I love purging my closet. As one new piece of clothing in, another goes out. I shared how I pared down my closet last year in this closet organization post, and this season I'm ready to de-clutter, de-stress, and stop hoarding things that we no longer need. For this year's spring cleaning, I'm going to focus on organizing our many bookshelves. Books that are no longer needed, never read, or junk that I've somehow managed to hide away on the shelves. I love buying books, and sometimes I know that I don't need to save them. They weren't a favorite or I'm ready to pass them along to someone else who might enjoy this classic. 
Here's a great excuse to provide motivation for my spring cleaning project: Your donation of used clothing or household goods to Goodwill helps create jobs directly in your community. I used Goodwill's Donation Impact Calculator that showed just how my donation can help my community. By clearing the clutter and donating 100 books, someone can have over two hours of career development. This resume preparation class can help someone in my neighborhood find secure employment to support their family. How cool is that? When you think about the small, yet mighty, impact a Goodwill donation can have in your community, it becomes much larger than just de-cluttering. It means I'm helping someone achieve a better life. Every individual's small donation can have a very big impact on someone's life. 
Want a fun, motivating idea for spring cleaning? Try the #7DaysofSpringCleaning challenge! Goodwill is encouraging everyone to participate in #7DaysofSpringCleaning by urging people to focus on cleaning different areas of their home for seven consecutive days.
Day 1: Clear your closet clutter
Day 2: Time to tackle the kitchen
Day 3: Spread holiday cheer (holiday decorations, center pieces, Halloween)
Day 4: Downsize your tech toys (used laptops)
Day 5: Clean out your office supplies
Day 6: Provide quality entertainment (unused movies, video games)
Day 7: Downsize your bookshelf
I've already got a headstart on some of these daily challenges. My closet is clear, but my kitchen does need a bit of work. How many plastic cups does one person need?! I also need to go through our many DVDs (some unopened!) that I just have never, ever watched. After a year or so, it's time to recognize that I just won't ever use them.
Want to learn more?

What are you going to de-clutter this spring? Are you going to make any Goodwill donations?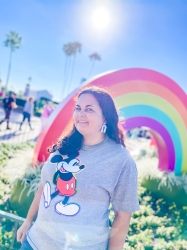 Latest posts by Krystal | Sunny Sweet Days
(see all)