DIY Cleaning Checklists and Laundry Tips
Cleaning my house (and keeping it clean!) takes way more time than I want. Add in washing, drying, folding, and hanging laundry and I wonder how we have any time to do anything else! The secret to fast and EASY cleaning lies within you, and I want to share with you a few ways that you can create a system for household cleaning that works for you and your family. It all begins with a cleaning checklist and a few good tools to help!

Since laundry is probably my least favorite chore in the home, let's start there. I stock up on household essentials at Walmart, and I looked for 20 Mule Team® Borax. It is a multi-purpose household cleaner that you should have since it has numerous solutions for your cleaning needs. It's also all natural! I found it down the laundry aisle with "additives." While Borax is commonly used in the laundry room, there are ways to add it to your cleaning routines too!

Borax is great for delicates, jeans, polyester, linen, cotton, towels, and blankets. It also helps get rid of mattress odors, helps clean and deodorizes your refrigerator, and it can even help deodorize garbage cans. When you have a cleaning tool that helps accomplish so much of your dreaded household chores, it makes it easier to get things done. Armed with Borax and these printable cleaning checklists, you're going to have a cleaner home in no time!

To create a cleaning schedule that works for your family, get a dry erase marker, a printer, a photo frame, and get ready to get organized.
You can download this cleaning schedule here.

Because the printable is behind glass, you can easily write on it with a dry erase marker! You can create your own schedule to share with your family and hang it in a central location.

Bonus: it is easy to erase!
Here's How To Create Your Own Cleaning Checklists
You can create your own daily tasks by asking your family which tasks take priority each day. Write down the day the trash is taken out or when the recycling bin needs to go to the curb for pickup, and other routine tasks that can sometimes be forgotten.

Once you are organized, there is a logical order to cleaning that you can implement. If you're cleaning the bathroom, don't mop the kitchen. Try to batch your tasks by room!
Cleaning Printables
Cleaning Tips and Printables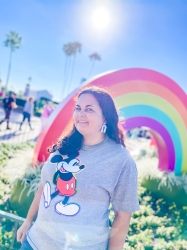 Latest posts by Krystal | Sunny Sweet Days
(see all)