Simple Steps To Sell Your Home Quickly
Selling your home can often seem like such a tricky task, especially in the current climate with a severe financial crisis on the horizon.
Fortunately, figuring out how to sell your home as fast as possible doesn't have to be as difficult as you might initially expect – this guide contains some brilliantly effective steps that you can follow to attract a buyer in no time at all!
So, what are you waiting for? Read on to discover more.
Stage Your Home
Many people are tempted to empty their property before putting it up for sale, with the reason being that it may help a potential buyer better visualize how to use the available space. Though this is a fair point, it's not going to be as effective as you would imagine. It will be helpful to look into Real Estate Photo Editing to help make your home look appealing.
In fact, it's far better if you can take the opportunity to stage your home, as you can show a potential buyer yourself how to utilize the space in the best possible way. Staging is perfect for empty properties and you can fill your home with furniture without having to buy it all yourself. You can opt for digital staging, where a graphic designer can digitally alter your images to include furniture. Alternatively you can choose physical staging with real furniture and decor, which is going to be better if you are planning on having in-person viewings.
Make sure that you choose a modern interior that is particularly workable and minimalistic, as this way you can appeal to lots of people rather than only reaching out to one specific target market. Making the mistake of injecting your own personality into the decor could limit a buyer's interest.
Maintain A Manicured Garden
Another key step that you need to follow if you want to stand any chance of getting a fast sale is to maintain a manicured garden. Your front garden is the first thing that a potential buyer is going to see when they arrive at your property, so set the best first impression!
Take the opportunity to mow the lawn and keep any bushes or hedgerows neatly trimmed. Cut back any low hanging branches from the trees in your garden so that they don't block the view of your property from the street. It's a good idea to include a few extra additions too, as you can make your home appear more welcoming and inviting. For example, an oasis of a couple of potted plants or hanging baskets with beautiful flower arrangements can bring a pop of refreshing color that will help your home stand out.
Make sure that you don't have any weeds, brambles or other unsightly plants lurking in your garden, as this might encourage a potential buyer to think you aren't taking good care of the property.
Figuring out how to sell your home fast has never been so simple when you can take the time to utilize these brilliant ideas. So, get out there are sell your home in record in time!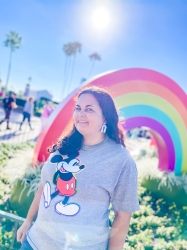 Latest posts by Krystal | Sunny Sweet Days
(see all)