Make Your Garden Look Like a Million Dollar Oasis
Gardens are common in yards across the world. Unfortunately, a lot of them leave a lot to be desired. They could be unkempt, don't take advantage of space as best as they could, or simply be too basic and boring. There are many gardening mistakes people will make that can hurt the quality of the space as well.
If you want your yard as a whole to look great, it's important not to forget about the garden. In an effort to help you out, this gardener is going to go over a few different tips and ways to make your garden look like a million dollar oasis.
Build a Pond
One of the first things you should consider doing to build the backyard garden oasis of your dreams, is to build a pond. Ponds can capture the eye of any visitor and draw it to your garden. They can be central in the garden, but also off to the side. They can be big, small or anything in between. Many can also contain unique plant wildlife or vegetation as well.
While you can certainly enlist the help of a professional to build your garden, you are also likely able to do it yourself. Simply dig a hole in the correct size you'd like, clean it out, line the hole, and then fill it up with water.
Of course, don't forget to pick up the pond supplies at Aquatic ponds. Pumps, waterfalls, fountains, lights, aeration and several more can have a profound impact not only on how your pond looks, but also how it functions.
Add Fauna to Your Flora
Aside from investing in top-quality plants, it is also a good idea to invest in animals to inhabit your garden. Your garden is bound to attract a few squirrels and birds, but why not raise a colony of honeybees? Bees are natural agents for pollination and can help your flowers grow faster.
Many places have various kinds of honey bees, and they also sell beehives and beekeeping supplies. These tools are necessary because they will allow you to raise your bees in the safest way possible.
Integrate it With the Rest of Your Yard
In many yards, the garden is away in the corner, and separated from the rest of the space. While this can look okay, the mark of a true garden oasis is one that can mesh and flow well with the rest of the yard. A great way to help your garden seem more involved is to give it a unique shape.
Instead of having the garden reside as a square in the corner, why not have it wrap along the fence line? This can help the garden appear bigger, and connected with the rest of your space. Also, you could use potted plants or other options to add some flowers or greenery to other areas of your yard, so the garden isn't the only place.
If you cannot mix the two effectively by spreading plants around and ensuring the yard is naturally cohesive, there are other ways to bring the garden and the rest of your yard together. You could add some seating near the garden, a pathway throughout your yard that goes right by the garden, or even some pergolas overhead.
Plant a Variety of Different Things
The things you plant in your garden can also factor into your garden looking like a million dollar oasis. While many gardens struggle being too green and too basic, your garden isn't doomed for a similar fate. In fact, there are several colorful and unique plants that can add some excitement to any garden. Of course, be sure to plant your favorites as well.
Not only can this help the garden look better, but it can also make you more passionate about it and thus more willing to tend to it frequently. In addition to different plants, be sure to add other features into the garden. This can include statues, rocks, bird baths and anything else that you think would look good.
By using the tips outlined and included in this article, you will be able to make sure that your garden looks like a million dollar oasis.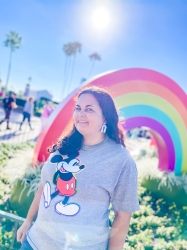 Latest posts by Krystal | Sunny Sweet Days
(see all)