With the back to school season in full swing, many of us have a bit more time on our hands. After a messy summer, it's time to get organized! I hate hitting the holidays with clutter and too much stuff around the house, so I am taking September to focus on home organizational projects. While I want to tackle the garage and our storage closets, there are three areas of my home that never seem to get fully organized. They are works in progress, but I did make great strides when I got a new white Sauder desk. I shared blogger productivity tips and my squeaky clean office space, yet since I work and live in my office…the space doesn't always stay that way.

It's definitely time to break out the garbage bags, and get organized! Since I love my Sauderdesk so much, I could see it being a piece of furniture that can translate well in any room of your home. Here's how I would use my Sauder desk in the office, the kitchen, and the foyer. Where would you use this desk?
1. Your office. A desk is clearly made for an office, right? My Sauder desk has two drawers, and one of them is a keyboard tray. While I don't have a desktop computer (yet!), I use this drawer for my important daily essentials.

I usually keep loose bills and papers along with a file folder with other important reference papers. I try to store the "important" stuff in this drawer since I'm constantly in and out of it.

I also stay organized in my office with a jumbo desk calendar and a few organizational items. I use the pencil cup for writing instruments, the green mini drawers for small items like paper clips, and the magazine file holders for things to read, documents to reference, and books I need to thumb through. I try to keep the desk clutter free, though you can see a few items peeking through down below! I never said I was perfect, but I try to have a clean work area. If my work area is cluttered, I can't seem to concentrate.
2. The kitchen or dining room. Okay, hear me out on this one! I have always wanted a long buffet or china cabinet, but we simply do not have the space. A sturdy desk would be perfect for piling my decorative glassware and storing extra place mats in the drawers.

Another idea is to use the desk in your family's main room to organize your life. Since the kitchen is kind of our "go to" area, a family filing system like the one above would go nicely in this room. I have a file for everyone in the family (including pets!). Anything that needs to be "filed away" for later goes here, and we can easily reference it come tax season. I also store magazines here as a reminder to read and recycle.
3. Try the foyer. Do you have a room in your home where everything just gets dumped? It's awful. Mail, boxes, trash, sippy cups, and shoes strewn about. It's a nightmare! A desk in the foyer could eliminate the need for additional furniture pieces, like baskets or benches. Instead use a desk to keep pens, coupons, and things that you need to reference often (like childcare information or phone numbers).

Invest in an organizational mail bin like the one above. Yours, mine, and ours. It's an easy way to stay on top of your home's inbox!

Or, better yet, you can use this command center as a way to organize school supplies and corral notepads and journals. I always have a notepad with me, so this would be a huge help.
How would you use a desk in your home?
Need more ideas?
[amazon-related-products keywords="office supplies"]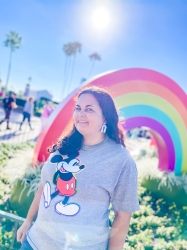 Latest posts by Krystal | Sunny Sweet Days
(see all)