Spice Up Your Cocktails: Try These Herbs in Your Next Drink Recipe
Thirsty? Spice up your everyday beverage with herbs! An herb garden provides you with an abundance of fresh plants that give you the ability to flavor your food and drinks. Flavoring drinks with herbs you have grown adds to your beverages and can change what might otherwise be a boring drink into something entirely different. There are a lot of classic herbs that can be grown in a small garden or container, and then some flavors that might be new to you can add an exotic kick to your drinks. I've been researching a lot about gardening lately, and I can't wait to add a few of these to my garden.

Try growing these herbs to flavor your favorite drinks with more than just sugar.
Mint: Mint is a very popular herb to add to fruity summer drinks of all varieties. The flavor of mint adds depth to very sweet fruit drinks and cuts tartier berries that otherwise might need a bit of sugar to drink as is. Mint is a very aggressive herb and should be grown in a dedicated container or garden bed. One plant is enough for flavoring drinks all summer long, regrowing as you go. Collect leaves for use as needed. And, of course, mint is perfecto in a mojito!
Cocktail Herbs
Lemon Verbena: The citrus flavor of lemon verbena is a great herb to add to tea drinks and other lightly flavored beverages. Try it in carbonated drinks for a little natural sweetener and citrus boost. Lemon verbena loves full sun and heat, which brings out the best flavor. Grow it in well-drained soil that is loosely packed and fertilized. Fresh leaves from the bottom and middle of the stem should be picked so that the plant can continue growing.
Basil: The cool, green flavor of basil makes it the perfect herb to add to chilled and iced drinks. Its cooling flavor makes every drink a little bit more refreshing so that they are easy to ice and blend into frozen drinks. I've had mixed drinks that used basil as a garnish, and I loved it! Basil is a very common herb that is easy to find in garden nurseries and even grocery stores. Keep yours well watered in loose soil that is high in nutrients. Gather stems with full-grown leaves that you can add to drinks whole, or crushed.
Thyme: Thyme adds flair to common summer drinks like lemonade and iced tea, taking them from drinks to put out on the children's table to sophisticated drinks for a garden party. This slightly more exotic tasting herb can be found in different flavors so there are several possible combinations. Grow thyme in nutrient-poor soil, along the border or edge of your garden and harvest the entire stem which can be added to drinks.
Lavender: Lavender is another uncommon herb used in drinks, though it is commonly used for several other reasons. This herb is greatly infused into lemonade, teas, and light flavored fruit drinks. I've also seen bars advertise lavender martinis, but I've yet to try one myself. It does give drinks a unique floral flavor, which tastes different to everyone but can really elevate and cleanse the palate. Lavender bushes are perennial plants and should be added to the garden as transplants. Snip the budded portion of the stem before the buds have opened and added them to your beverages.
What's your favorite herb to add to a drink? You might infused whiskey too!
Thirsty?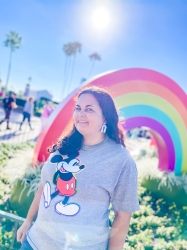 Latest posts by Krystal | Sunny Sweet Days
(see all)