10+ Delicious Summer Cocktails You'll Want to Sip All Season Long
Summer is quickly approaching, and it's time to think about summer cocktails! I've put together a list of summer drinks that will help you cool down on hot summer days. These summer cocktails are perfect for outdoor parties, BBQs, or just relaxing at home with family and friends.
I know what you're thinking: "But summer only lasts so long!" That's true, but we can enjoy these delicious drinks all year round! Great summer cocktails should be more than just refreshing and cold. It should be a fantastic experience that will make you want to come back for more. In this article, I have chosen three of the best summer drinks that are available in the market right now for every taste.
Best Summer Cocktails
What are summer cocktail recipes?
Summer cocktails are refreshing sweet drinks you can enjoy on hot summer days. Summer cocktails are not only refreshing, they are also delicious! Some of the most popular summer cocktail recipes include mojitos, margaritas, and pina coladas.
Is there one type of summer cocktail?
Not really, different flavors and textures make summer cocktails great for any occasion.
Do I need to use alcohol in my summer cocktail recipes?
You can absolutely skip the vodka and instead use juices to mix in. These drinks can still be refreshing without the alcohol. If you want a refreshing summer, try one of these!
1. Frozen Strawberry Margarita Cocktail
This is a great recipe for frozen strawberries margarita. It's made with only 3 ingredients and it's easy to make!
Ingredients:
1 cup of ice cubes (about 2-3 cups)
2 oz of tequila
1/4 cup of fresh lime juice
1/2 cup of frozen strawberries
Put all the ingredients in a blender and blend until smooth. Pour into glasses. Serve immediately, garnished with your favorite fruit slices.
A traditional tequila sunrise cocktail is a mixture of orange juice, pineapple juice, grenadine, and tequila. To make this recipe, you start with a glass that's been filled with ice. Pour in one part orange juice and two parts pineapple juice over the ice. Add the grenadine slowly into the glass while stirring it to mix it in – the drink should become pink or red. Then pour in some tequila. Some tequila sunrise cocktails use other types of juices instead of orange juice or grenadine for more flavor variety – for example, cranberry juice or grapefruit juice.
The name "tequila sunrise" comes from how the drink looks when it's done!
3. Tom Collins Cocktail
Tom Collins drinks are made with gin, simple syrup, lemon juice, and soda water. To make a Tom Collins cocktail:
Shake gin, simple syrup (recipe is at the end of this post!), and juice with ice until chilled. Strain into a tall glass and top with soda water. Garnish with lemons and cherries.
Looking for a refreshing summer drink? Frozen Pina Coladas are sweet summer cocktails that consist of a mixture of pineapple juice, coconut cream, and rum. They usually serve the cocktail in a tall glass or cup.
6. Mojito Cocktail
Mojitos are summertime favorites and a staple for any summer bar. This cocktail is refreshing, delicious, and great for groups! With three simple ingredients (rum, sugar or honey, mint) you can whip up this tasty drink in no time at all. It's the perfect summer cocktail that will have everyone feeling refreshed on those hot summer days. Mojitos are a cocktail typically made with lime, sugar, soda water or club soda, ice cubes, and mint leaves. Traditionally, it is served in a chilled glass.
Classic Mojito: A classic mojito has 1 1/2 teaspoon of sugar and 1 tablespoon of lime juice. It should be mixed in a highball glass with crushed ice and mint. Then add 2 ounces of rum on top to the glass along with club soda. Stir well before drinking.
One of my favorite mojitos is a dragon berry mojito with a strawberry garnish, but this peach mojito is pretty good too.
7. Moscow Mule Cocktail
The Moscow Mule is a refreshing cocktail that has been around for decades. The drink originated in the 1940s in Hollywood. They popularized it it in New York City and it became a cultural trend during the Cold War Era.
So, there are two variations of this drink – the Classic and Spicy Style. The traditional Moscow Mule has been made with vodka, ginger beer, lime juice, and ice blended together. Whereas, they usually make Spicy Style with vodka, ginger beer, lime juice, and ginger ale or spicy ginger beer blended together.
Vodka is served in a copper cup filled to the top with crushed ice. Add some fresh mint for an extra summer vibe.
8. Bloody Mary Cocktail
One of the best drinks that you can make is a Spicy Bloody Mary. You will need tomato juice, olive juice, Worcestershire sauce, hot sauce, horseradish, Tabasco sauce, and salt. Combine these ingredients in a pitcher with ice and fill to the top with vodka. Stir well and pour over ice in a tall glass. Garnish with a celery stalk or lemon wedge if desired.
9. Whiskey Sour Cocktail
The summer is in full swing, and this means that the warmer weather has us all drinking more cocktails. One cocktail we like to make at home during summer evenings when it's cooler out is a whiskey sour. This summer cocktail recipe is a mix of whiskey and lemon juice. We love adding fresh lemon juice, cucumber slices, and ginger ale, or any other soda water for an easy-to-make summer drink with lots of flavors! Whiskey sours are one of our favorite summer drinks because they're so simple to make (with just three ingredients!), but still really delicious!
We typically use white sugar instead of brown sugar as it's lighter on your stomach than regular cane sugar can be sometimes, and we add gingersnap cookies after shaking up our mixture to give our whiskey sours a little extra sweetness. We like to use fresh lemon juice, cucumber slices, and ginger ale or any other soda water for an easy-to-make summer drink with lots of flavor!
For the alcohol component in this summer cocktail, you'll want either bourbon or whiskey.
Ingredients:
2 oz. bourbon or whiskey
¾ oz fresh lemon juice
¾ of simple sugar (we typically use white sugar)
crushed ice
Serve this drink in a highball with lots of ice cubes on top for summer sipping pleasure!
10. Gin & Tonic Cocktail
A classic mixed with tonic water, lime, and lots of ice! Gin and tonic is a summer cocktail that's perfect for those hot summer days. To assemble the drink, you will need glasses, gin, ice cubes (one cube per glass), limes for squeezing, and lemon wedges if desired as a garnish.
Fill the mixing glass with ice cubes, then pour in gin until it's almost full (leave room for shaking). Stir or shake your drink very well for about 20 seconds until cold, then top up with tonic water to taste. If adding lemon wedges as a garnish to serve the drinks on a summer day you will want them sliced into four pieces if they are large.
11. Dark'n Stormy Recipe
Ginger beer or ginger ale topped off with dark rum? Yes, please! A summer cocktail is a refreshing concoction of alcohol and other ingredients mixed with ice, typically served in a chilled glass. Dark'n Stormy is an old-fashioned summer cocktail that has lemon lime flavor.
In a tall glass, pour about ¾ oz. each of white rum and ginger beer (ginger ale will also work) over ice cubes. Add some lime or lemonade if preferred. Stir well, then garnish with slices of fresh pineapple and/or orange wedges. Serve cold!
12. Piña Colada Shake Mocktail Recipe
Piña Colada is a summer cocktail that has grown in popularity over the years. They typically include pineapple, coconut cream, brown sugar or cane sugar, ice cubes, and rum. Variations include piña coladas with fruit juices like mango juice. Either way, this summer cocktail will keep you cool!
The recipe below includes many ingredients but the following list should help guide you through making your own delicious summer-inspired cocktail. Blend pineapple chunks, coconut milk, banana, and vanilla extract – shake well until creamy then serve over ice!
13. Frozen Daiquiri Recipe
Daiquiris are sweet summer classics and a staple for any bar on a summer day. This frozen drink is refreshing, delicious, and great for groups! With three simple ingredients (rum, lime juice or daiquiri mix, sugar) you can whip up this tasty treat in no time at all. It's the perfect summer cocktail that will have everyone feeling refreshed on those hot summer days. Here's how to make this recipe:
Six cups ice
Half cup white sugar/sugar substitute
Four ounces frozen strawberries
Quarter teaspoon lime juice (fresh or bottled)
Half cup lemon juice – fresh squeezed if possible; otherwise use bottled lemon juice instead
Three quarters cup rum – spiced up with some vanilla extract for even more fun flavors! You can also experiment with other extracts like orange blossom water, almond extract, cinnamon, ginger, or cloves
Quarter cup lemon lime flavored carbonated beverage
In a blender, combine ice, sugar and frozen strawberries. Pour in lime juice, lemon juice, rum and carbonated beverage. Blend until smooth. Pour into glasses and serve.
14. Mint Julep
A summer drink that couldn't be more refreshing on a hot day. Mint Juleps have been around for centuries, their origin attributed to English noblemen who wanted something cool and herbal to sip during summer horse races in 17th century England. They originally contained only sugar water with some cognac or brandy added later on but it wasn't until the late 18th century when fresh mint came into fashion (thanks largely to King George IV) that they became what we know today as one of America's most popular summer sips.
In a pint glass, add some crushed ice and fill it with bourbon. Top with sugar syrup or simple syrup to taste. Add mint leaves for garnish. Serve in tall glasses filled with cracked ice; do not stir the drink!
15. Sangria
Sangria is an easy summer cocktail recipe that can be made quickly for any occasion! First, pour a bottle of red OR white wine into a pitcher with ice cubes. Add in orange slices and sliced apples to your liking. You can swap out fruit for strawberry, watermelon, or even add basil if you'd like. The possibilities are endless with sangria. However, don't forget the cinnamon sticks.
Mix well until all ingredients are combined. Serve over ice with a slice of lemon if desired! 🙂 Summer is now upon us so enjoy these summer cocktails while they last!
Sangria pro tip: You can swap out wine for champagne if you'd like a bubbly experience. It's not as sweet and strawberry pairs well with champagne.
Upgrade your summer cocktails:
Create your own summer cocktails by adding fresh fruits and herbs to your favorite summer drinks. Add a sprig of fresh basil or thyme for a twist on iced tea, lemonade, soda water, sparkling wine, or rosé. You can avoid using sugar in a cocktail and use fresh fruit to make it sweet instead. Watermelon as a garnish is one of my favorite ideas, but using strawberry is easy and delicious too.
How to Make Simple Syrup:
It wouldn't be an article about the best summer cocktails without sharing how to make your own simple syrup! We can use simple syrup in many cocktail recipes. There are tons of recipes out there for different variations too. Here we'll cover how to make basic simple syrup so you have something on hand when those summer cravings hit. Consider having a simple syrup on hand this season so you can mix it up easily.
Ingredients:
granulated sugar, about half cup
water, just over a half-pint (a quarter of the total volume). You may need to adjust this amount depending on how much syrup you want to make.
Add both ingredients into a saucepan and turn the heat up medium-high until it boils. Stir continuously for at least five minutes or until all water has evaporated and only white granules are left. Be careful not to burn them!
Turn off the heat immediately when done cooking and let cool before pouring the mixture into a glass jar with a tight-fitting lid.
Keep refrigerated for one month after removing from fridge.
Looking for more summer cocktail recipes?
You might also like one of my summer punch recipes. Try this mango rum punch recipe or my watermelon whiskey cocktail. While you may just want a sip of red wine this season, don't forget about vodka lemonade, watermelon drinks, and sangrias. My strawberry screwdriver is one of my most pinned posts on Pinterest, so definitely try it. I also have a few lemonade recipes that are sweet!
Share in the comments what your best summer cocktails are! I'd love to help more of you have a refreshing summer. Is it a mint julep for a derby day or do you like a strawberry daiquiri? I prefer light and refreshing drinks, but there are SO many sweet options.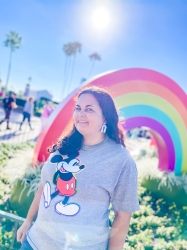 Latest posts by Krystal | Sunny Sweet Days
(see all)