Malibu Pina Colada Recipe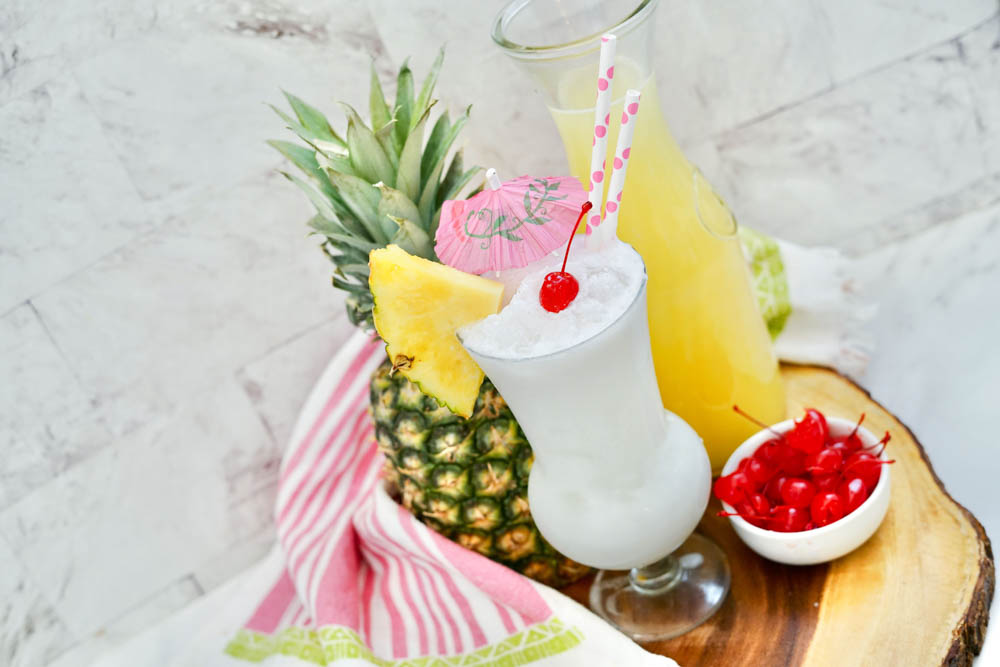 I'm kind of not sure how it is already June and summer is in full swing. The temperatures are quite warm here in Florida, and regular ol' cocktails melt quickly outside. What doesn't melt? Well, frozen drinks are a good start. Sure, they melt eventually, but at least they don't turn into a watered-down mess of juice and alcohol in ten minutes or less. What's your go-to drink when you're out at a bar? Mine is the pina colada. I know that some people may be like, "What's in it?" or "How do you make it?" We'll get to all of that in this blog post, but first let me tell you why I love pina coladas so much! The perfect mix between sweet and sour with an undertone of coconut, they are my favorite cocktail to enjoy on vacation. Plus, who doesn't love getting drunk off pineapple juice? Malibu Pina Coladas are just as good as getting caught in the rain!
Love Cocktails? Sign up for the cocktail recipe ebook!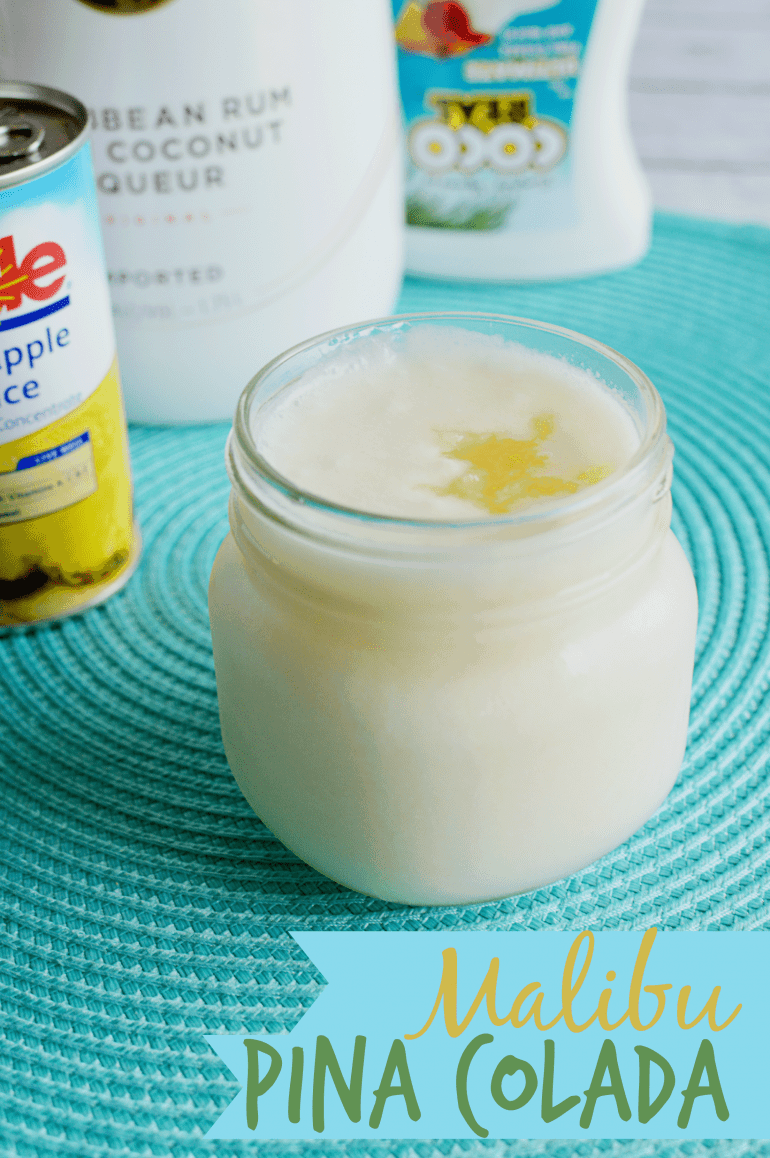 How to Make a Pina Colada
This classic pina colada recipe combines my two favorites—coconut and pineapple. I could eat pineapple all day, every day. Sometimes, I do. This reminds me, I have the COOLEST pineapple corer that I found at Williams-Sonoma. I highly recommend one if you are going to enjoy fresh pineapples this summer.

It's kind of amazing. Just imagine what you can do with it! Anyway, you can find it at Williams-Sonoma for under $20. Win.
But back to the drink. This is sure to be a new Sunday pool party favorite, and the cool flavors are perfect for summer. While I'm planning a family vacation for next week, I have a few cocktail recipes and Florida posts to share on this blog. From frozen drinks to 4th of July crafts, get ready for a few fun entries to welcome summer. Psst…. love summer cocktails? Learn how to make jello shots for a refreshing shot to share at your next pool party!
You have been invited to a beach party and you are not sure what drinks to bring. You don't want to make the same mistake as last time- bringing way too much alcohol and running out of something else. The solution is simple: Pina coladas! This delicious drink will keep you refreshed, cool, and satisfied all night long without having to worry about running out. Read on for how easy it is to make this tropical favorite at your next party!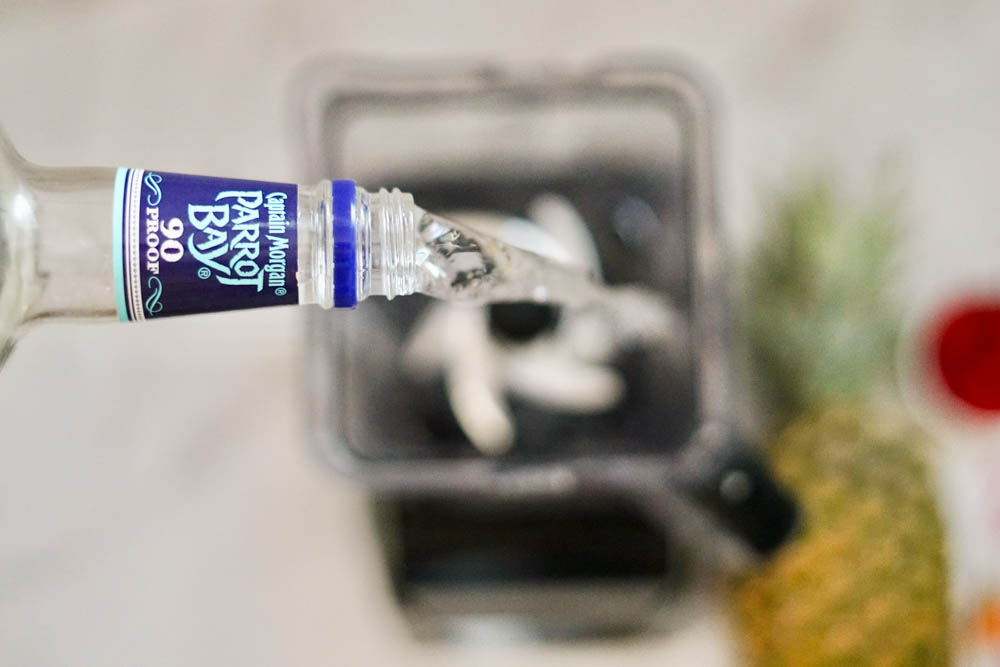 It's summertime in the US, and that means it is time to pull out your shorts, bikinis, sunblock, and of course those cool drinks. One of our favorite drinks for the summer is a pina colada. Pina coladas are refreshing cocktails made with rum, coconut cream or milk (or both), pineapple juice and a dash of nutmeg or cinnamon. But how do you make one?
You need:
1.5 oz coconut rum
2 oz pineapple juice
1 oz coconut cream OR coconut milk (I used both methods in this post as you can see and they both are CREAMY and delish!)
1 cup ice
Add ingredients to a blender, and blend on high until you have a slushy consistency.
Garnish with a pineapple wedge and/or maraschino cherry and cocktail umbrella if you'd like!
Other ingredients can be added to the drink such as grenadine syrup, sugar, ice cream and whipped cream.
Adding orange juice will give it a tangy flavor while grenadine will add sweetness.
Malibu Pina Colada Recipe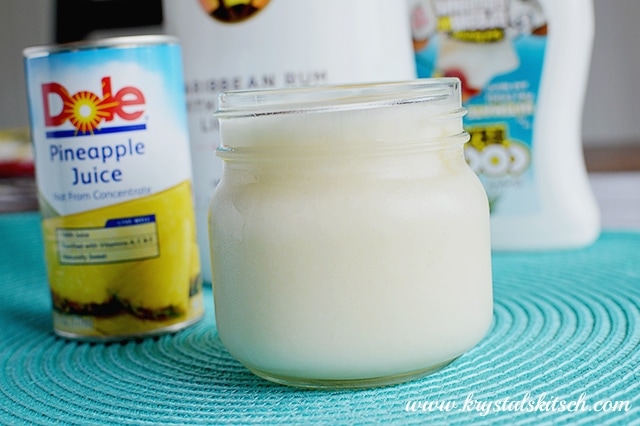 Malibu Pina Colada
A classic cocktail for summer!
Ingredients
1/4 cup of crushed pineapple
1/2 cup of pineapple juice
3 oz of cream of coconut
2 oz of Malibu coconut rum
2 cups of ice
Instructions
Add ice, pineapple juice, crushed pineapple, and cream of coconut into a blender.
Blend until it is smooth.
Pour in the coconut rum and mix with a spoon.
Garnish with fresh pineapple and cherries.
Serve immediately. Pour into your glass.
Notes
Alternate recipe idea:
2oz White Rum (Coconut or Traditional)
6oz Pineapple Juice 
3oz Coconut Milk
2 Cups Ice 
Pineapple Slice (Garnish)
Cherry (Garnish)
Add rum, pineapple juice, coconut milk into the blender.
Add ice. 
Blend.
Pour blended mixture into glass.
Garnish with a pineapple slice & cherry. 
Cheers!
Recommended Products
As an Amazon Associate and member of other affiliate programs, I earn from qualifying purchases.
Nutrition Information:
Yield:

2
Serving Size:

1
Amount Per Serving:
Calories:

448
Total Fat:

28g
Saturated Fat:

22g
Trans Fat:

1g
Unsaturated Fat:

6g
Cholesterol:

51mg
Sodium:

138mg
Carbohydrates:

41g
Fiber:

5g
Sugar:

33g
Protein:

3g
The nutritional information here is an estimate. While I try to provide accurate information via Nutritionix, this information is provided as a courtesy and there is no guarantee that it will be completely accurate. I am not a certified nutritionist and any information sunnysweetdays.com should only be used as a general guideline.
Looking for a mocktail? Substitute an extra ounce of cream of coconut and skip the rum!
Pina Colada Cocktail Garnishes
Maraschino cherries
Orange slices
Coconut flakes or shredded coconut
Brown sugar and cinnamon for rimming the glass with whipped cream on top (optional)
Chopped macadamia nuts (optional)
If you're feeling adventurous, add in some spices like cinnamon or nutmeg for an extra kick.
To make it even more festive, top off with whipped cream and maraschino cherries.
How Do You Serve a Pina Colada?
It is often served in a tall glass garnished with pineapple chunks and an umbrella on top to make it look like a tropical vacation.
Pina Colada Party Ideas
Are you ready to turn up the fun with a tropical-themed party? Pina Colada parties are an excellent way to celebrate a special occasion and bring a taste of the tropics to your home. Whether you're planning a small gathering or a big bash, these Pina Colada party ideas will help you create a fun and festive atmosphere.
Nothing says tropical vacation like a classic Pina Colada. This refreshing cocktail is the perfect way to kick off a gathering with friends and family. With the right decorations, food, drinks, music, and games, you can easily turn your home into an island paradise. So, if you're ready to get your Pina Colada party started, read on for some creative ideas to turn up the fun.
Pina Colada Themed Decorations
No Pina Colada party is complete without a few tropical decorations. Hang a bright, colorful banner that says "Let the Fun Begin!" and add a few palm trees and other tropical foliage to give your space a beachy feel. String up some twinkle lights for some extra sparkle and top it off with a few Pina Colada-themed balloons for a truly festive vibe.
Tropical Party Food Ideas
Tropical-themed snacks are the perfect way to keep your guests happy and full. Serve up some snack-sized empanadas filled with mango and cream cheese, along with some delicious homemade guacamole and chips. Also, don't forget the Pina Colada cupcakes with a splash of rum. You could also try this pina colada dip for a sweet treat. For a healthier option, set out a colorful fruit bowl with pineapple, mango, and other tropical fruits.
Pina Colada Cocktail Recipes
It wouldn't be a Pina Colada party without the signature drink. To keep things simple, stock up on pre-mixed cocktails in flavors like pineapple, coconut, and mango. If you're feeling adventurous, try out a few of these delicious Pina Colada recipes. Serve up a classic Coconut Pina Colada made with coconut cream, pineapple juice, and white rum, or try something different like the Mango Pina Colada which blends mango, pineapple, coconut cream, and a hint of strawberry.
I have an easy pina colada recipe if you want to try that instead of the one in this post! It needs just TWO ingredients.
Tropical Music to Get the Party Started
Nothing sets the tone for a Pina Colada party like some tropical music. Queue up a few reggae and calypso tunes to get your guests in the mood. For a more upbeat tempo, create a playlist with some Latin-flavored pop and salsa music.
Fun Games To Play
Whether you're planning to keep your party intimate or have a large crowd, playing some fun games is a great way to bring people together. Make it a competition with a tropical twist and have a beer or cocktail-themed trivia game. Or, if you prefer something a bit more active, set up a limbo contest to get the party going.
Outfit and Accessory Ideas
Encourage your guests to dress the part with fun and festive Pina Colada-themed outfits. Ask your guests to top off their look with a few tropical accessories like a lei and a festive hat. If you're feeling extra creative, make a few floral headbands with fresh or artificial flowers.
Tips for Hosting a Pina Colada Party
Hosting a Pina Colada party doesn't have to be stressful. A few easy tips can help make sure your gathering is a success. First, plan ahead to make sure you have enough supplies for food and drinks. Also, it's a good idea to give your guests a heads up about what type of outfits and accessories to bring. Finally, make sure you have plenty of games and activities to keep your guests entertained.
Pina Colada parties are the perfect way to celebrate a special occasion with friends and family. With the right decorations, food, drinks, music, and games, you can easily create a festive and fun atmosphere. From coconut cupcakes to limbo contests, these Pina Colada party ideas will help you turn up the fun with tropical flavors.
What's your favorite summertime drink? I'm a big fan of the classics even though I like to experiment!
Still thirsty? There are tons more cocktails in my archives. This pineapple vodka cocktail is one of my most popular!
What to know about this classic cocktail:
A creamy pina colada is perfect for those hot summer days, and you might love experimenting with different rums. For example, try a dark rum, a gold rum, or your favorite type of rum from Puerto Rico if you want to experiment with a different liquor! You might also find that a light rum gives a better flavor if you find it hard to indulge in strong drinks. This easy recipe uses simple ingredients to make a great drink. Don't forget a highball glass for traditional pina coladas.
Looking for more of my favorite recipes including pineapple cocktails?
Making cocktails is a great way to spend time with friends and have fun. It's also a good way to impress guests at your next party. If you like pina coladas, here are some cocktails that you can make!
Try a Pineapple Mojito next! Mix ¼ cup of fresh lime juice, ½ cup of pineapple juice, 1 tablespoon of sugar, 3 tablespoons of chopped mint leaves and 2 cups ice in your blender until it becomes slushy. Pour into glasses over crushed ice and garnish with additional sprigs of mint leaf for the perfect tropical drink!
A night out with friends is always a good time, but it's even better when you have the right drinks to go along! With these delicious cocktails, you'll be able to find something that suits your taste. Whether you like margaritas or mojitos, we've got them!
The Best Rum Cocktails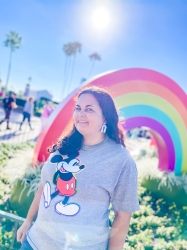 Latest posts by Krystal | Sunny Sweet Days
(see all)