Time Saving Tips For Busy Families
Time is limited. Isn't that the truth? We have the same 24 hours each day to dream up our goals, complete our busy family's tasks, and live the life we want to live. There are a few ways that you can shave off some precious minutes on our everyday routines, and I want to share with you how to set priorities and make things happen!
Set Your Priorities: There are four options for your daily lives. What is the most important? What is most urgent? What is least important? What is least urgent? Once you mark off what tasks and priorities need your attention, you can focus on what truly matters.
Say NO: Obviously we can't say yes to everything. Protect your boundaries and your schedule by not over-committing yourself.
Use printables. I have a stack of printables in a binder that help me create a routine. You can use my free printables or find cute ones on Etsy.
Organizational Printables for Free
Turn off your phone: I seriously have all my notifications on my phone set to OFF. When I want to check my messages, email, or Instagram, I intentionally open the app to see what is going on. I don't have the time to incessantly check my notifications all day!
Schedule everything: Time block! Do you know what that means? Designate your time throughout the day into blocks. From meals to errands, if you know that you have a routine in place, it is easier to get things down.
Upgrade your home: When you use efficient tools in your home, it can help you shave off minutes in your life! Imagine if this was your kitchen.
Other tips for your busy days include outsourcing what you can (skip spending Saturday mornings mowing the lawn and hire someone to help you!), and turn on things like auto-pay for bills. Small steps can turn into big change over time.
What are your busy family's best tips?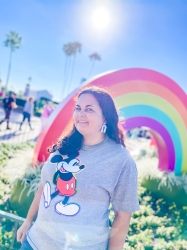 Latest posts by Krystal | Sunny Sweet Days
(see all)