Easy Hydration Tips to Try
This post was sponsored by Avitae Caffeine Water as part of an Influencer Activation for Influence Central and all opinions expressed in my post are my own.
I admire those who seem to effortlessly drink at least 8 glasses of water a day. It simply doesn't happen for me. In fact, I don't drink many liquids during the day except a few cups of coffee…and I am here to stand tall and make a change. I know that I need to drink more water. You don't have to tell me twice. I also should probably swap some of those early AM cups of coffee for water. Yet, I seem to use coffee as my "crutch" for getting through the day. Don't I need that boost of caffeine? Well, I can have that caffeine my body craves AND stay hydrated. Yes, it's true!
I was introduced to Avitae Caffeine Water, and I'm a believer. Water doesn't have to be flavorless and bland, AND it can help keep you energized on your busiest of days. Avitae creates caffeinated water in a variety of flavors. You can skip the sugary sodas and stay hydrated with a natural caffeine boost.
Avitae is made with purified water and natural caffeine derived from green coffee beans. It has ZERO calories and zero sugars in its unflavored, flavored, and sparking options.
Plus, you can choose how much caffeine you want! They have 45mg, 90mg, and 125mg options. Just FYI, 90mg is a cup of coffee.
Find where Avitae is sold near you: https://goavitae.com/find-now/
Hydration Tips to Try
Drink water that you enjoy. You might claim that you don't like unflavored water. Fine. Try one of these! They have sparkling or non-sparkling varieties. I loved the black cherry and the kiwi!
Enjoy fruits like watermelon, tomatoes, and cantaloupe. These can help keep you cool and hydrated as well.
Skip foods that lead to dehydration like french fries, cured meats, COFFEE, and soy sauce.
Avoid sugary drinks since they can lead to dehydration too. Just because you're feeling less thirsty when you sip a sugary soda, it is not helping you stay hydrated.
Water is the best way to stay hydrated, and you can carry a tumbler of ice with you to keep your drinks icy cold. Look for Avitae Caffeine Water near you or shop online. Try working out and use these tips: When Should You Work Out?
Sparkling Water Recipes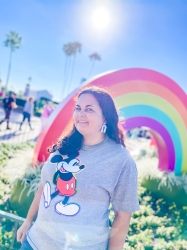 Latest posts by Krystal | Sunny Sweet Days
(see all)