How to Organize Your Linen Closet
This is a sponsored post, but all opinions are my own.
Get ready to glam up your bathroom and create a simple basket that has all your essential toiletries!

Is your linen closet a hot mess? It's time to tackle that linen closet and whip it into shape. Here are several tips you can use for organizing the linen closet in your bathroom and how to stock up on your toiletries!
1. Install adjustable shelves. One of the best ways to get things organized in your linen closet is to install adjustable shelves. Why would you need these? Well, you might need to change up what you're putting in your linen closet and sometimes that may mean moving things around. Adjustable shelves work wonders.
2. Roll your linens up. If space is an issue in your linen closet, then don't be shy about rolling up your linens. Give it a try, you'll be surprised at how much room this method saves. It's not just for suitcases.
3. Divide the space where you can. Sometimes dividing the space in a linen closet can help it stay more organized. This helps to delegate where items go and it keeps things from getting thrown inside for forgotten about.
4. Label items where you can. It's okay to get your little label gun out and start labeling. If you need a reminder for where things go, then this method words wonders!
5. Eliminate clutter as much as possible. Your linen closet will never be what it was meant to be if you don't get rid of the clutter. Clutter is a mass of "stuff" that you collect but don't need. If you think you'll need it later down the road, but don't use it now, then put it in storage.
6. Utilize baskets in your linen closet for the smaller items. If you don't have organizers in your linen closet, consider putting baskets in there. Baskets can also help break up clutter and keep things a little more organized.
7. Use mason jars! Store smaller things like cotton swabs or your U By Kotex products!
7. Be consistent when organizing items and putting them away. It makes no sense to organize your linen closet and then let it get destroyed. After you spend time organizing it, spend more time each week keeping it that way.
8. Decide if your linen closet will be used for storage or JUST for your everyday toiletries. When it comes to your linen closet, no one can tell you what it's used for. You can use it for whatever you like! However, it's best to decide if it'll be used for storage or everyday items as this will help you stay more organized overall.
Stock up on your favorite toiletries with Walgreens and create your own organized linen closet. Make sure you have feminine products, razors, lotion, facial tissues, and even everyday makeup.
Home Organization Ideas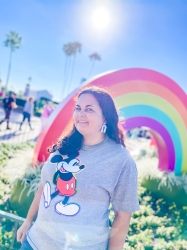 Latest posts by Krystal | Sunny Sweet Days
(see all)