5 Ways to Keep Your Car Clean + Organized
My car is kind of a disaster. For Mother's Day one of the only things I wanted was a clean car. My husband took my car to clean it, detail it, and vacuum it. Now that I have a clean slate and my car is organized, I am trying to keep it that way. Here are five ways to keep your car clean and organized.

1. Collapsible bins for your trunk. Keep your groceries organized in easy to use bins in your trunk. I also have a soft cooler just in case I shop and have to stop somewhere else, and I don't want my cold food to go bad. It's worth the investment.
2. Grocery totes. If you don't have them in your car, you will SO forget them! The only way that I remember to use them is if I already have them on hand. Once I unload my groceries, I usually just put them right back where I found them. My trunk!
3. PERK Fresh Link. I just recently discovered these, and they are so awesome to have for your car.

PERK is an innovative brand of automotive air fresheners offering long-lasting, high-quality fragrances in a variety of formats to fit your lifestyle. You can hang it, clip it, link it, and enjoy it! Fresh Link can be clipped on the rearview mirror, gear shift, headrest, grab bars, etc. The products can be linked together to create custom fragrances and color combinations. They have a variety of amazing PERK fragrances, including favorites such as Golden Vanilla, Caribbean Colada and New Car.

PERK products can be found at Walmart, Target, Advance Auto Parts, AutoZone, Meijer, Kroger, Pep Boys, Publix, CVS, and other places auto air fresheners are sold. The scent is powerful but not overwhelming. I love how easy they are to use in your car, and it has lasted through the Florida humidity! I find the clip design to be sleek and fit nicely on my rear view mirror and in my console easily.
4. Car care kit. I hate getting somewhere and not having a stain remover pen handy or my hair tie suddenly goes missing.  You never know how much you need a hair tie until it's gone! 😉 You could use an empty baby wipes case to store crucial items in your trunk or another compartment in your car. If you live in a colder climate, don't forget about an ice scraper and anything else you might need for snowy days. If you are in a warmer climate like myself, items like gum might not have the best shelf life in your car. Try mints instead.

5. Small wastebasket. Imagine how much time I would save if I had a trash can in my car! This is such a way to collect random flotsam that finds its way into your car.
How do you keep your car clean? What are your best car cleaning tips? Try these Must Have Cleaning Supplies to get your house in order next!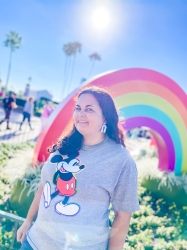 Latest posts by Krystal | Sunny Sweet Days
(see all)