Bullet Journal Collection Ideas
It is probably no surprise that I start the day with a cup of coffee and a good notebook. I've lately fallen into the habit of bullet journaling, but I'm still a beginner learning as I go. If you are ready to seize your days, feel motivated and inspired, and create a routine that brings you life and no worries, keep reading!
But First, Coffee

I prefer the K-Cups since they are easy to use for me on a busy morning. I've gone through a few coffee makers, but I always seem to come back to using the coffee K-Cups. Publix has a wide variety of Dunkin' Donuts coffee K-Cups, and I usually stick to the original but the dark is really yummy too! That is the variety that my husband prefers. No matter what variety you choose, Dunkin' Donuts provides a consistent cup of coffee every time. It has a rich and smooth flavor, and it is never bitter.
Bullet Journal Tips
The great thing about a bullet journal is that there are no rules. You can create a "collection" of lists, to-dos, anything that you can think of! Here's a peek at my lists to inspire you to start your own.
The Index
I start with goals and daily routines so that I can reference these early on in my journal. I am trying to segment all my tasks into home, blog, and work so that I can stay organized. This bullet journal is specifically for my blog tasks so I'm looking to have blog post ideas, sponsorships, an income tracker, and a list of courses I'm taking and my progress. I also want to track books I'm reading or need to read, computer folders that I have to edit and organize, along with due dates for blog post drafts! These lists aren't really items that go in a regular day planner. They are more in-depth and very specific.

Habits are also important to track like drinking enough water, reading, and I'm trying to run the dishwasher daily along with folding and putting away laundry.
Maybe writing it down will help hold me accountable. I'm giving it a try! A concert wish list is also included in my notebook. It would be nice to have that kind of budget to go to all of these, right?! 😉

Pick your point! When you bullet journal, you will find yourself drawn to pens of all shapes, sizes, and colors. I am learning more about what pens work best on a bullet journal, and these pigment liner pens are amazing!
Bullet Journal Collection Ideas
To Do List
Morning Routine
Afternoon Routine
Evening Routine
Books to Read
Podcasts
Shows to Stream
Courses and Progress
Daily Habit Checklist
Weekly Goals
Monthly Goals
Quarterly Goals
The Year Ahead
Braindump
Income Tracker
Savings Tracker
Budget
Debt Payoff Tracker
Concerts to Attend
Favorite Albums
Instagram Ideas
Favorite Nail Polish Colors
So, are you going to add bullet journaling to your morning routine along with a cup of coffee? Whether you like your coffee black (as pictured) or with a splash of cream and sugar, try adding journaling to your morning routine. You just might feel a little more centered throughout the day.

It has helped me already!
Bullet Journaling For Beginners
What's your favorite way to start the day? Have a new planner? Try these tips to start it: How to Set Up Your New Planner.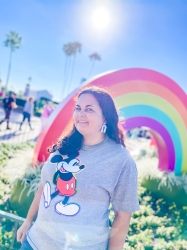 Latest posts by Krystal | Sunny Sweet Days
(see all)