How to Make Easy (and healthy!) Infused Water Recipes
Infused water is simple: it's adding any combination of fruits, vegetables, and herbs to your water, which then flavors the water. You end up with some delicious flavors that are way more exciting than drinking plain water, you can create all kinds of different combinations, and benefit from the nutrients that are expelled from the produce you use! Infused water is easy to do, but here are some things to keep in mind when you are making your own.
Types of Water to Use
As with anything, filtered water is always better. Filtered water is cleaner, so aside from the health benefits of cleaner water, filtered water is also going to improve the overall quality and flavor of your infused water concoction. Filtered water will really allow the vegetables and fruits you use to shine through! If filtered or bottled water isn't available, you can use tab water if needed. It's better than no water at all!
When choosing your water, room temperature or cold water is the way to go. It'll also contribute to this clean, crisp taste, as well as keep the produce from falling apart at a more rapid rate, like you'd find happening if you use hot water.
Choose Organic When Possible
If at all possible, try to select organic fruits and vegetables. A quick trip to the supermarket may do the trick, but I find a better option to be getting them from a weekly CSA, farmer's market, or contacting local farmers directly. Acquiring your produce this way just further ensures you're getting fresh fruits and veggies that have been locally grown without chemicals and unnecessary fertilizers. As with the use of organic produce in general, using organic produce in your infused water does tend to provide a better flavor. However, the most important part is having healthy water with your favorite fruits and veggies, so if you can't use organic, it can be okay to use traditionally grown produce.
How to Prep the Ingredients
After you select the ingredients you want to use for your infused water, you will then need to prep them. Take the basic steps of rinsing your fruits and vegetables to remove any residue or chemicals. With herbs, crushing them with a muddler helps to release the natural oils that produce the flavor! The exception is when the herb is leafy, such as with mint or basil.
It's always a good idea to cut most fruits and vegetables at least in half before putting them in the pitcher. Cutting them helps them release their flavors and exposes the insides of the fruit to the water, which is great! For harder produce like cucumber and apples, cut them into thin slices since they can take longer to release flavor to the water.
What to Make Your Infused Water In
Before you add in the water, make sure you have the right container. Any pitcher will do, but a glass pitcher is recommended. Make sure, though, that any vessel you use is BPA-free and food-safe. Many plastic pitchers are not ideal and won't keep the water fresh, but in the end it is really up to you. There are also pitchers and cups used especially for infusing. These devices typically have a long and narrow section in the middle where you put your herbs and fruit, with holes or slots so the flavor can be released.
How Long to Soak the Produce
When making infused water, here are the steps you'll want to take:
Add the produce and herbs
Add your room temperature or cold water on top
Let the water infuse so that you can get good flavors and nutrients from the fruits and vegetables being used.
If you plan on leaving your water out on the counter, your water will be ready to drink and all infused in about 2 hours. If you want to refrigerate your water, wait 4-6 hours for the infusing process. If you leave it overnight, it will be super flavorful.
When the Water Should Be Enjoyed
The ideal time to drink infused water is within 24-48 hours after the infusing process is complete. The same day is best because your fruits and vegetables will be at their freshest, but at least try to drink it within the first couple days. If you want to go just a little bit longer to three day, make sure you are not leaving the fruits and vegetables in the water for this long. Go ahead and remove them, leaving the water behind to drink. Citrus fruits will remain fresher for longer, while melons are going to get soft and mushy quickly.
Also keep in mind that if you drink the infused water the same day, you can usually refill it 2-3 times with the produce in the pitcher or cup and still get good flavor from it!
Want some more recipe inspiration? Check out these blog posts!
[amazon-related-products keywords="infused water"]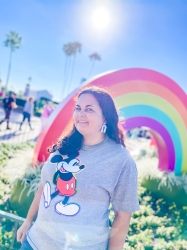 Latest posts by Krystal | Sunny Sweet Days
(see all)