Pinterest for Photographers
Every Sunday I will share easy photography tips for new photographers, busy bloggers, or those who just want to learn more about staging and styling photographs. I'll let the experts teach the technical stuff, but I'm teaming up with Mariah Meyer Photography to bring you ways to save money on your gear, easy ideas to take better photos, and simple styling tips. Today's topic is all about what to wear for family photographs!
Why?
Why should you use Pinterest? The fact that over 72 million people are using it might be convincing to you. You could potentially market to all of those people, and that's a lot of people! Especially if you are a photographer who offers other things such as action sets, graphic design, or destination wedding photography. For those who are in a more select category, such as a hometown photographer, you can still market to your area quite a bit by using Pinterest, it's become an evolved social media site that most people know about.
How?
Using Pinterest is easy, you simply "pin" images, or create pins on your Pinterest account page to share. Others can then see your pins and can "re-pin" them, imagine how fast your images and links can spread!
Pinterest and your business.
Good photos. A key to using Pinterest as a photographer is to post good photos, images that are going to catch a user's eye and make them want to re-pin it from you. Use professional looking images no matter what the topic is that you are posting about. This includes posts that you are sharing from a blog, which brings us to the next point, always use your backlinks!
Use backlinks. If you are a photographer that uses a blog, ALWAYS use backlinks. Use one in the description area for the pin and another in the source area of the pin when you create it. This is what will boost your SEO as well as direct people right to your site when they like something and want to see more of it.
If you are using a regular website, or even just Facebook, ALWAYS use those links! Get your links out there and you WILL get noticed!
Market your Pinterest page. Another key to getting Pinterest to work well for you and your business is to stay up to date and market it accordingly. Be sure to post the link to your specific Pinterest page or boards for your clients and potential clients to see. Keep up with posting and post something as often as you possibly can to boost your page and SEO.
Where is your favorite place to take photos of your kids? Follow along for more photography tips on Pinterest.
Taking birthday party photos? Try these Birthday Party Photography Tips.
If you want more photography posts, check out these blog posts!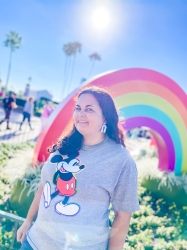 Latest posts by Krystal | Sunny Sweet Days
(see all)