8 Decluttering Hacks To Breathe Space Into Your Home
We are now in January, which means that the time is now for a fresh start and a clean slate. Most people make this their resolution for their weight loss and their health, but really, you should apply this to your home. It's straightforward to hoard items that you buy all year long, but it's not so easy to let them go again. You can embrace the minimalist lifestyle that's currently trending, though – all you have to do is commit to decluttering. This is so much easier when you're planning to move house or renovate the home, as most of your stuff would need to go into storage.

When you choose to make your January about decluttering the home, you're going to make your space bigger, brighter and far more orderly. Get the help of the Portable Storage Box Company to keep hold of all the stuff that you want to stay in storage. You'll need to make sure you're not getting rid of things that you want to keep close to your heart! So, how can you bring some order and minimalism to your home? Below, we've got eight ways that you can create more space and order in your home.
The Big Swap: Your cupboards and storage baskets in your home can become overly crowded in the house when you don't make any smart swaps. You need to apply the "one in, one out" rule for every single thing you on. If you buy new coats, you replace your coat. Don't endure a crowded closet if you don't have to, especially when you can continue to shop without making everything as crowded as possible. Before you shop for anything new, take something old from your closet and either donate it, sell it, or recycle it. You'll always think twice before buying new this way, and you can stop yourself from impulse buying, too!
You can actually ensure that this is applied to the entire home; if you buy new cushions for the sofa, replace the ones you have. Don't keep all the older stuff! Swapping things out will enable you to keep your home as fresh as possible, so think about how you can move from room to room, sorting things for storage, recycling and for swaps!
Add Trash Bins: One of the most intelligent hacks for adding space? Getting rid of the trash! It's so easy to leave paperwork laying around, wrappers from the food you eat, empty drinks cans – you need it to go in the right place: the trash cans. The whole idea of a minimalist lifestyle is to get rid of the junk and a big part of that? Making sure that the trash is gone, too. You're thinning down your things, but you also need to add some trash cans to capture the garbage as you discard it. Open your mail close to the bins, too, and then you have somewhere to dump the junk straight away!
Drawer Dividers = Genius! Drawers can end up being the most cluttered area of the home – especially if you're spending time shoving things into them! There are plenty of options for drawer organizers out there, with plastic boxes and baskets one such option that you can enjoy in every room. You can sort the dresser drawers with dividers in the same way that you can with the bathroom drawers. You need to give yourself extra space, and it's so much easier to organize and declutter with these! The bonus part of using drawer dividers is that you can save a lot of time rummaging through your stuff with them.
Introduce A Charging Station: Chances are that your home is overrun with a variety of gadgets, all of which come with their own chargers. You need to get rid of them from view – they're not pretty to look at with wires hanging around everywhere. You can check out these cable station hacks to make some of your own cable tidies and this will make a huge difference to your home and the way that it looks.
Work Room To Room: You can only successfully declutter your house if you have a methodical approach. You need to be able to go from room to room slowly, clearing the clutter and listing things for sale one thing at a time. You cannot flit from room to room without a plan – otherwise, you're effectively just messing things up for fun! Take your time with this job; it's a January job, not a job to be done in a night.
Match Sheets & Pillowcases: One of the most annoying pieces of clutter in the home is in your linen closets. Mismatched bedding and fitted sheets rolled into a ball make all of your closets look untidy and unruly. Sure, the doors may be shut, but whenever you open the cupboards, you're faced with an untidy closet. Start matching the bed sets together, folding them neatly and placing the set inside the pillowcase. This way, everything is going to match and you can store them without a mess.
Hang Your Shoes Up: Yep, you read that right. You can really see the clutter when you have a pile of shoes in the entrance hall. You can change this by hanging shoes in the closet with these hanger ideas. This will help you to minimize the space that you use, and you can apply this hack to your wardrobe upstairs. No space? No worries! The shoebox trick of labeling your shoeboxes with a photo of the shoes on the outside allows you to find the shoes that you want to wear without upturning every box to find them.
Organize The Small Stuff: Decluttering is the one time that you should really sweat the small stuff. It's all the tiny pieces of everything that ruin the look of the space, so find baskets and boxes for everything that ends up lying around, especially stationary!
It's easy to get your year off to a decluttered start, and don't forget, if you're in need of long-term storage while you sort your house, only add in the sentimental stuff you REALLY want to keep.
Home Decor Tips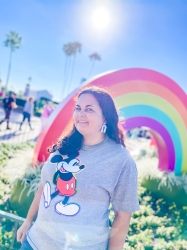 Latest posts by Krystal | Sunny Sweet Days
(see all)