Ways To Keep Your Bathroom Looking Timeless
The bathroom is an area that is going to see a lot of footfall, and when it comes to designing your bathroom or doing renovations, you want to make it look the best it can be. Here are some ways to keep your bathroom looking timeless.
Keep It Neutral
When you're decorating, sometimes it's best to keep it neutral. When you're trying to transform a room or space, and you want to keep it the way it is for as long as possible, neutral colors aren't going to go out of style. Think about the walls and the floors, keeping it plain. The bold colors you can incorporate in the soft furnishings as these are things you can swap in and out. When you decorate neutral, you hopefully will extend the lifespan of the bathroom's look before you need to do touch-ups or renovations again. Being able to make your money stretch a bit further is important, so try to avoid colors in a permanent format.
Get Storage To Reduce Counter Space
Storage is something you should never have in short supply because it can make your space look cluttered else. When it comes to counter space, it's usually pretty limited in the bathroom. To avoid cluttering this space, making it a potential hazard for your lotions and potions to fall, invest in some storage. From shelving to under the sink cabinets, there are lots of different options that you can use to ensure all the clutter is kept away from where you can see it and that you're keeping the minimal amount on the counters. You should really just have your essentials on this part.
Regrout The Tiles When You Can
Regrouting is an important part of your bathroom when you have tiles. It's one where you can continue to make your space appear timeless, even if the tiles end up being twenty years old before you renovate again. Dirt and bacteria causes the grout in between the tiles to go a horrible color and in some cases can develop mildew and mold. Regrouting it every few years can certainly be beneficial to do.
Invest In The Main Features
The main features in the bathroom are usually the mirror, sink, toilet, and bath or shower. If you have both the bath and shower then great! When you're spending money on your bathroom in order to make it look timeless, invest in these main features. Go for something classic, again keeping it neutral where possible and then perhaps changing the colors of the things you can replace easily and cost-effectively, like taps and showerheads. At Victorian Bathrooms 4U, you can find a wonderful range of pieces to suit your needs but to also invest in something that will last a long time.
The bathroom is one area that you want to keep looking better for longer, so use these tips to make sure you're making your bathroom look timeless in every way. Avoid bold permanent colors and invest in those main features.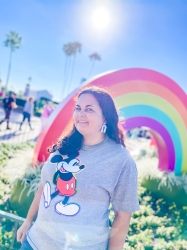 Latest posts by Krystal | Sunny Sweet Days
(see all)