The Best Ways to Be More Stylish
Not everybody likes to live with the new year new me mantra. Just because it's a new year doesn't mean you have to change yourself, how you dress or your whole personality. However, some people choose the new year as a good time to make some smaller and positive changes to their lives.
The start of another year is the opportunity that some people feel they need to declutter and improve, and while nobody needs improvement because we're all perfect as we are, our opinions of ourselves really do matter. The start of another year can change your outlook, so if you have been schlepping around in joggers or yoga pants for so long, and you'd like to make some changes to your look, you are in the right place. The new year is a good time to figure out what should stay and what should go because you're walking into a clean slate.
If you're holding on to old clothes, or you haven't started investing in some great Western Jewelry, you might choose now to be the time to do that. You don't need to panic buy pieces that won't have more than one outing, either. We are all guilty of making sensible decisions when it comes to our wardrobes and our looks, but it doesn't have to be that way this year if you don't want it to be. So, let's take a look at some things you could be doing this year with your clothing and your wardrobe.
Stop buying one piece outfits for one occasion. Everybody is guilty of it if you're heading out with friends on a Friday night, you think you need a brand new outfit to go with it. The secret is that you don't. It's nice to feel special, and it's nice to feel like you need something special to wear, but the chances are high that you're going to spend money on one outfit and never wear it again. Of course, you could resolve to wear it again, but take a look at what you've already got in the wardrobe. If you already have some dressy pieces, it doesn't matter if you wear it again and your friends have seen it before. You have something amazing called a washing machine. Point that out if anyone makes a comment.
Stop buying clothes that don't fit. Everybody holds onto those items after they gained some weight in the hopes that they won and they fit back into them again. Instead of hoping for a body you currently don't have, start dressing for the body that you do have. Don't buy clothes that are too small as a goal to fit into, but buy clothes that you can wear now. Not only will this make you feel better about yourself, you are being more realistic with yourself and how you feel.
Don't buy clothes that don't suit you. 2023 has to be the year that you stop buying things that don't look good on you. Bring a friend with you who you know you can trust, and when you try on clothes ask them their opinion. You want to be able to wear things that are both comfortable and to suit your shape, but it's not for everybody else's benefit. It's purely for your own confidence. If there's something in the wardrobe or in the store that you want to wear, try it on and take some pictures, not just look in the mirror.
Stop saying yes to a bargain for bargains sake. You can easily be won over by a huge discount, and while you should make the most of big markdowns, it doesn't mean you should buy something if you don't need it. Buying what you don't need is how you had an overfilled wardrobe in the first place. If you want to make some changes to the way your wardrobe and your clothing looks, stop over buying everything and start looking at what you already have. If you do want to go shopping, thin down the wardrobe that you have and sell the pieces online so that you can then go ahead and use that money to buy new things.
When you buy something you say goodbye to something old. We just covered this in the previous point but just to reiterate, adopting an one on one policy is going to help you to keep your wardrobe under control. Not only will you get rid of your overflowing wardrobe, you will never buy something unless you truly love it.
Indulge in clothes swapping this new year. If you have some stylish friends who are happy to swap clothes, it will help your wardrobe to stay fresh. You can still use your one in one out policy but this way you can save money on buying because you're going to work with your friends instead. You can host a clothes swapping party, or you can go to a swap meet and there are loads of those online. If you have a deal with one friend who is the same size and shape and height as you, you can trade clothes and have an exciting wardrobe as a result. You won't do any further damage to the environment, and you'll have The excitement of getting something new.
Say no to a giant shopping spree. It's nice to go shopping and buy things that make you feel good. Spending money on yourself can give you a thrill, it's why it can get quite addictive. Instead of going out and splashing on an extravagant shopping spree though, make sure that you are choosing things that you will actually wear. It's easy to get stuck in a style, so you could always use the help of a personal shopper whose job is to tell you what things you should buy to suit your body. No matter what you buy though, make sure that you are comfortable and happy with it because you need to be able to buy something every now and again to feel good and to look good. Plus, there is the added benefit of keeping up with the trends if that's something that's important to you.
Take a look at new brands. A good way to get stuck into a style is to keep shopping for the same brands. It's nice to have core favorites and the brands that you trust, but there are so many new and amazing brands out there that are just waiting for you to discover them. It's not all about expensive designer clothing either, because you can find some stylish finds at a low budget. The best part is that if you look for these smaller stores, you'll be able to buy things that nobody else has.
Create a uniform that works for you. A big misconception about being stylish is that you should never have something that's the same as somebody else. You're also not supposed to have something that's similar to what you already own. However if you love Navy blue and you love wearing black skinny jeans, there's nothing wrong with making the most of what suits you. There are always new cuts and new styles, new lengths and new fits that you can enjoy in the colors that you like. Having a uniform that you use that keeps you looking like yourself is a good idea. You'll always know what you look good in, and sticking to this kind of a formula when you're choosing new pieces is a great way to ensure that you enhance your wardrobe.
Don't be ignorant to what you already have. It's easy to ignore what's inside your wardrobe when the door is closed, but you need to go through everything that you own and make an inventory of it. If you know what's inside your wardrobe then you're going to know exactly what you should be wearing day in and day out, and you'll have a good clear out and a declutter at the same time. Don't just keep buying things and throwing them into the pile of clothes already in the wardrobe, because you'll never be able to get out from under that pile!
Fix what you already own. If you have clothing that is faulty or damaged, don't just throw it away. Learn to get savvy with a sewing machine and start fixing up your stuff. Patches are still in, and if you have frayed patches at the elbows of your Blazers then why not just use other pieces of material to fix it up?
It's exciting to have the chance to be and feel more stylish in yourself, and these are the ways that you can do that. This year is supposed to be your year to feel great and look good, so stop holding on to old things and start moving forward with your life. Your new look is just around the corner with a great shopping spree and a clear out.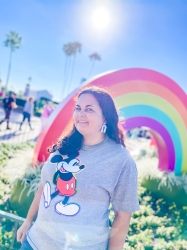 Latest posts by Krystal | Sunny Sweet Days
(see all)