Why Florida is a Paradise on Earth for Families Raising Kids
Florida has a lot going for it. As a mom raising kids in Florida, you can enjoy many perks that you and the family won't find in other states. Anyone considering this region should know about the many benefits you'll experience when living there.
We'll talk about some of those right now. Florida waits for new families who want their kids growing up in a veritable paradise.
The Cities
You might live out in the boonies if you live in Florida. In the panhandle, you can live out in the swamp if you like.
You'll see natural splendor and experience incredible wildlife. Wild hogs live out there, as do snakes, alligators, and many beautiful bird species. You can experience National Geographic every time you leave the house.
You can also live in the cities, and they appeal to many families raising kids. The traffic gets annoying sometimes. You should stay away from the clubs on the weekends, or the next thing you know, you might need a head-on accident lawyer if you run into a drunk driver. For the most part, though, cities like Miami, Jacksonville, and Tampa have many more perks than drawbacks.
You'll find fantastic cuisine everywhere. You can enjoy pizza, Mexican food, Cuban food, Jewish-style delis, and much more. Many ethnicities and backgrounds mingle in Florida cities, and they all put their distinct culinary stamp on these places.
What Else Do the Cities Offer?
Kids and parents living in Florida's cities can enjoy many opportunities as well. You can find museums or water parks when you need to cool down on hot days. You can see movies in the theaters and enjoy professional sports at the local ballparks and stadiums.
Football fans can support the Miami Dolphins, Jacksonville Jaguars, or the Tampa Bay Buccaneers. All three teams made the playoffs this past year, and Tampa won it all just a few years back.
If you like baseball, you might see the Marlins play. You might see the Rays play in Tampa. They are perennial contenders and have a gorgeous ballpark. You can also enjoy basketball and hockey.
The cities all have shopping opportunities and beaches close by. You can swim, work on your tan, or try fishing, waterskiing, or bodyboarding. Your kids might love the water and spend lots of time on the beach.
Your Kids Grow Up with Diversity
You can also make sure your kids grow up with many other ethnicities and religious backgrounds. If America is a melting pot, you see all flavors in Florida. Your kids can attend school with individuals like them, but also others who come from different backgrounds. They should appreciate that. They can make friends from all of life's walks.
You Can Spend Time in Nature
You can spend time in nature with your kids in Florida, whether you want big-city living or a smaller community sounds preferable. Florida has natural wonders everywhere. You can walk or jog with the kids in public parks. You might all get bikes and ride through your neighborhood on the weekends together.
You can learn about the native Floridian species. You might also get a dog for the kids and take it for walks in the park or in your neighborhood. If you let it run loose in the yard, though, watch out for gators if you live close to a canal.
You can spend time in the nature preserves that often appear throughout Florida. Many enjoy protected status so that they stay pristine and the animals and plants that live there can thrive.
You Can Make Friends with Other Parents
While your kids make friends, you can as well. If you grew up in Florida, maybe you still know people from high school or college who live in the area. If you attend a state school like Florida State University, The University of Miami, or The University of South Florida, you can get a degree, and maybe your kids will attend your alma mater when they grow up.
You can get together with the parents and spend time with them while your kids have playdates. You might have BBQs or attend concerts together if you can get a babysitter. Many bands like playing in Florida since it has excellent venues, both small and large.
Your Kids Can Get Scholarships
If your kids show academic promise, you can encourage them, and they might get full-ride scholarships. Maybe you have a child show athletic promise as well. They may get an athletic scholarship to one of the schools we mentioned.
Even if your kid gets a partial scholarship, that can knock the tuition price down. You can save up and help them get through college. They might live with you if they can't afford campus housing, or you might get them an apartment if you have the money.
Your Kids May Not Leave When They Graduate
Since Florida has so many options and opportunities, your kids might stay close by when they get their high school diplomas and get jobs or when they get their college degrees. As a parent, you might like that.
You will have the kids close by when they become adults and start their own families. You can invite them and the grandkids over during the holidays, or they might just drop by anytime.
Some Florida families stay in the state as the years pass by. Your generation might live there, and the following one can as well. You'll like having your kids nearby as they get older. They might help you when you reach older adulthood, and you're not as spry.
Florida has culture, lovely weather, and many other features that families love. The more years you spend there, the more you'll discover. As a parent, it's hard envisioning a better place to live and to raise your kids into responsible adults. They'll like growing up in Florida and not freezing every winter, as they'd endure other places.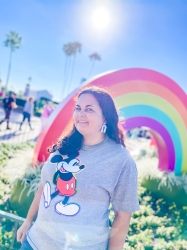 Latest posts by Krystal | Sunny Sweet Days
(see all)