Formal Dress Code For Men: 7 Do's And Don'ts To Keep In Mind
We all like to dress up for special occasions. Men's formal dress code, often known as black-tie, is reserved for special occasions, such as weddings or cocktail dinner parties, or other social events organized by the rich and generally, people of influence. 
In a world overrun with fashion choices though, the ideas of semi-formal and formal clothes could seem more like hazy categories rather than actual regulations. To make things simpler, let's take a look at the 7 dos and don'ts of formal dress code for men.
Do Take Your Measurements
Knowing your measurements is helpful before placing an order for a new suit. In addition to bringing maximum comfort, a well-fitting garment will provide you with a distinct silhouette that can guarantee you constantly look slick and fashionable. While taking your own measurements is not that hard, it's best if you seek the assistance of a tailor.
Do Play With Color
You don't have to be afraid of a little color even when you're formally dressed. Obviously, you still need to maintain a sense of refinement, but a little modest color can quickly brighten an entire ensemble. Besides, there are many occasions, like summer weddings for instance, which present the perfect excuse to dress colorfully. So, to balance out your outfit, think about wearing a pair of colorful chino trousers with a timeless blue jacket. Or simply impress the crowds with a striking red tie, like a successful politician.
Do Dress Accordingly
Not all social events are perceived as formal. Some are semi-formal and there are variations for formal occasions as well. So, if you're invited to a formal wedding, you're expected to appear in a tuxedo (complemented by a bow tie) if the note on the invitation clearly states a "black tie" requirement.
Otherwise, a formal wedding typically requires a three-piece suit and a tie. In case you don't have either of those, just opt for a dark color jacket paired with tailor made pants of the same color. Nobody will notice the difference if you appear wearing your best haircut and a suitable tie. This outfit should naturally be accompanied by black tie dress shoes, properly polished and cleaned.
Do Trust a Tailor
If you're still baffled by all this and can't make up your mind, why not go to an esteemed tailor's shop, where you'll receive the best professional guidance. They definitely know their craft well and they can transform your whole casual look into a stylish gentleman in no time at all. Their only requirement from you will be to tell them what the formal occasion is.
Don't Overdo it With Accessories
Although accessories are nice, they should enhance your look rather than dominate it. Limit your use to two or three items per look. Take one item out if you're unsure and remember that less is usually more. Cufflinks are always a good idea, as they're nicely matched with a white shirt. Avoid putting on too much jewelry, as they will add a loud element to your otherwise formal attire. A gold watch will be more than enough and it will certainly make a statement.
Don't Leave Out A Tie or Bow Tie
Formal dress code occasions undoubtedly demand a tuxedo with a bow tie or a three-piece suit with a tie. Anything else will most likely raise a lot of eyebrows and make you feel awkward and uncomfortable. Gray suits matched with plain shirts without ties are only intended for casual events and there's no arguing with that.
Don't Experiment
Dress codes have a long tradition that goes back many decades. They characterize every occasion where people are gathered and, like it or not, everything has been pre-defined for you. So, don't go to a formal event wearing the most novelty clothes you can think of. There are numerous alternatives to wearing a tie with a comic pattern if you want to give your look some personality. Just stick to the designated basics and you'll be fine.
Hopefully, these 7 easy tips can make things easier for you when it comes down to choosing the most appropriate pieces of clothing for formal social gatherings. Following them will ensure an optimal appearance at formal occasions, whether they're weddings or business meetings at your company.
It's always best to know what to wear to each different event, so you'll manage to participate in all of them without too much worry or hassle. And if your budget allows it, leave everything to a tailor and just lay back and enjoy your new formal attire.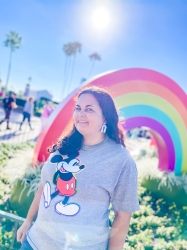 Latest posts by Krystal | Sunny Sweet Days
(see all)