Spring Cleaning Printable Planner
It's time to take control of your home and clean! Spring is for new beginnings and clean floors. Here's how I am getting my home together for spring with this spring cleaning planner.
My Spring Cleaning Secret Weapon
Our home is all tile on the first floor, and we have two very large fuzzy dogs. Paired with an energetic five-year-old, our floors need extra attention. We have to mop more often than other families (I am SURE of it!), so I need something quick and easy to help keep our floors clean. When you have the right tools, cleaning can be easier and a part of your everyday routine. If you're ready to prepare your home for spring, start with this spring cleaning checklist.
Spring Cleaning Checklist
Start at the top of walls, dust where the wall meets the ceiling and get the corners good.
Remove photos from walls, if possible, and wipe them down.
Wipe the walls down before replacing photos.
Wipe down ceiling fans.
Wipe down wall and ceiling fixtures. Remove globes and wash in warm soapy water, if possible.
Dust blinds or remove and wash with a water hose.
Remove curtains and run through the washer or have dry cleaned.
Clean windows.
Wipe down window moldings.
Wipe down baseboards.
Pull furniture out from the wall and clean behind.
Remove lampshades and take outside to dust off with a damp rag or a soft brush.
Shake floor rugs and run through washer if possible.
Vacuum carpets, use stain remover where necessary and then steam clean.
Wipe down air vents with a damp cloth.
Dust light bulbs, replace if necessary.
Change heating/air filter.
Change batteries in smoke detectors and carbon monoxide detectors.
Clean and buff hardwood floors if necessary.
Want more checklists? Download the free spring cleaning printable planner!
So, are you ready to clean and get organized? Start off by buying the right tools. Libman can help you! Then, print out my checklists to help you stay on track. You'll have a clean home in no time!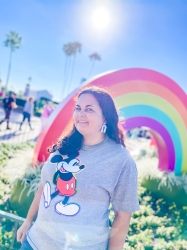 Latest posts by Krystal | Sunny Sweet Days
(see all)