Planning the Perfect Honeymoon for 2023
Your wedding should be the happiest day of your life, but it is also important that you have a nice honeymoon lined up so that you can finally relax and start this new chapter in style.
Alternatively, a holiday before the wedding could be the best way to spend quality time together and gives you the chance to get down on one knee and exchange engagement rings in a beautiful setting. So, where are some tips for planning the perfect honeymoon?
Timing is Everything
First, you will want to think about timing. You need to consider how quickly you want to set off as some couples will want to head off as soon as possible after the wedding while others may want some downtime first. You also need to think about how long you are going to go away for – if you are heading off to somewhere like Thailand or the Caribbean, you will want a good 2 or 3 weeks to really make the most out of it! You also need to think about the time of year as certain places will be busier and more expensive at certain times – this means that you might be able to make big savings simply by waiting a while.
DIY Holiday Plans
Planning a holiday with a travel agency might be easier, but it is worth planning the trip yourself as this could work out cheaper and you can enjoy greater personalisation. This also gives you the opportunity to properly research your destination instead of going in blind – this will help you to be prepared and make plans for the best ways to spend your time and how to have an authentic (and romantic) experience.
Hopping Honeymoon
Some couples will be content to spend a few weeks relaxing on a beach, but others may desire to travel and see several different destinations in one trip, which can be a great deal of fun. This type of trip can require more planning but can be a once-in-a-lifetime experience and an opportunity to experience different places, cultures and cuisines.
Picking Hotels
Choosing accommodation can be tough as you will want to find places that are within your budget, conveniently located and have everything that you need for a comfortable stay. You should think about whether you want a hotel that has features like a pool, spa and restaurants or if you will be seeing it as purely a place to sleep each night and are more concerned about the location.
It is important to have a honeymoon that you can look forward to so that you can begin married life in style and enjoy a memorable trip together. These tips will hopefully help you to plan the perfect honeymoon and a holiday that you both always cherish.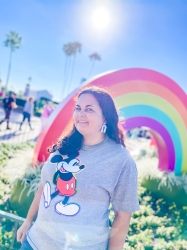 Latest posts by Krystal | Sunny Sweet Days
(see all)