7 Reasons To Explore Wonderworks If You Are Visiting Pigeon Forge For The Very First Time
If you're planning a trip to Pigeon Forge, Tennessee, there are countless attractions and activities to keep you entertained. One must-see destination that shouldn't be missed is WonderWorks, an interactive and educational amusement park that offers something for visitors of all ages.
From exploring space and experiencing natural disasters to playing virtual sports and testing your physical abilities, WonderWorks offers a unique and fun-filled experience that will make your trip to Pigeon Forge memorable.
In this blog, we'll explore some of the top reasons you should add WonderWorks to your itinerary if you're visiting Pigeon Forge for the first time.
4D XD Motion Theater
The 4D XD Motion Theater at WonderWorks in Pigeon Forge, Tennessee, is an experience that first-time visitors should not miss. This cinematic experience is designed to take you on an immersive journey through 3D movies with added special effects such as wind, fog, and seat vibrations. As you sit in your seat, you'll feel like you're part of the movie as it comes to life around you. With a range of movie options, you can experience everything from thrillers to kid-friendly adventures.
Indoor Ropes Course
Suspended several feet in the air, this challenging course offers a unique and exciting experience for kids and adults. You can test your balance and agility as you navigate through obstacles, including rope bridges, tight ropes, and swinging platforms.
The course is designed to be safe and fun, with trained staff to assist you if needed. With its glowing neon lights and immersive atmosphere, the indoor ropes course at WonderWorks in Pigeon Forge will surely be a highlight of your visit.
Disaster Zone
This exhibit offers a hands-on exploration of some of the world's most catastrophic natural disasters, and it's a thrilling and educational experience that visitors of all ages will love.
The Hurricane Shack is another exciting part of the Disaster Zone exhibit. This experience lets you feel the power of hurricane-force winds in a safe and controlled environment. You'll step inside a specially designed structure and experience wind speeds of up to 74 miles per hour.
The Earthquake Cafe is another part of visitors' favorite Disaster Zone exhibit. This interactive exhibit lets you experience what it's like to be in the middle of a simulated earthquake. You'll feel the ground shake beneath your feet and learn about the science of seismic activity.
One of the most impressive parts of the Disaster Zone exhibit is the Tesla Coil. This high-voltage exhibit lets you see and hear the power of electricity as it arcs through the air. You'll see lightning-like bolts of electricity and hear the crackling sound of the electrical discharge.
Imagination Lab
This interactive exhibit is filled with hands-on activities that encourage creativity and exploration, making it a great destination for visitors of all ages.
One of the highlights of the Imagination Lab is the Wonder Brite exhibit. This giant wall features plastic pieces that light up in different colors, allowing visitors to create beautiful and colorful pictures.
Visitors can let their imaginations run wild and create unique and dazzling designs by placing the pieces on the wall.
The Imagination Lab also features a variety of exhibits that teach visitors how machines work, including the inner workings of gears. Visitors can see gears in action and learn about the mechanics behind how they operate.
Space Discovery Zone
This unique exhibit takes visitors on an immersive journey into the mysteries and wonders of space, offering a variety of exciting experiences that are perfect for science enthusiasts and thrill-seekers alike.
Mercury Capsule allows visitors to step inside a replica of the spacecraft used by the first American astronaut to orbit the Earth. This interactive exhibit allows you to experience the cramped conditions of space travel and get a sense of what it would have been like to be one of the early pioneers of space exploration.
The astronaut training challenge features a two-person gyroscope that simulates the experience of working in zero-gravity conditions. Participants must work together to maintain balance and control as the gyroscope spins in all directions, providing a thrilling and immersive experience that is both challenging and fun.
Laser Tag Arena
If you're seeking a thrilling and action-packed activity during your first visit to Pigeon Forge, the Laser Tag Arena at WonderWorks is an ideal choice. This futuristic, immersive arena transports players to another world filled with neon lights and special effects.
Players of all ages and skill levels can participate in the fast-paced and intense game, where the objective is to shoot opponents with a high-tech laser gun while avoiding getting hit yourself. Laser tag encourages teamwork and communication, making it a great bonding activity for friends or family.
Physical Challenge Zone
The Physical Challenge Zone at WonderWorks is a must-visit for anyone looking for a thrilling and exciting experience. Here are some of the exciting physical challenges you can take on in this zone:
Pulley Power: The Pulley Power is a unique experience that lets you test your strength and agility. Visitors can pull themselves up to the ceiling on a pulley system to reach the highest point possible. It's a challenging experience that requires both strength and balance.
Bubble Lab: The Bubble Lab is another exciting physical challenge at WonderWorks. Here, you can learn about the science of bubbles and experiment with different bubble solutions. You can also create your bubble art and challenge yourself to create the biggest bubble possible.
Conclusion
WonderWorks is a must-visit attraction if you plan a Pigeon Forge trip. With its interactive exhibits, thrilling rides, and educational experiences, WonderWorks offers various activities, regardless of age or interests. Whether traveling with family, friends, or alone, WonderWorks is a great way to spend a fun and memorable day. From exploring the mysteries of science to experiencing the thrill of virtual reality, there's no shortage of excitement and adventure at WonderWorks. So be sure to add it to your itinerary and discover all that this unique attraction offers.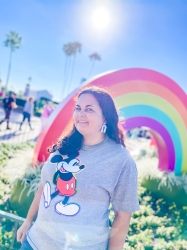 Latest posts by Krystal | Sunny Sweet Days
(see all)