How to Choose the Right Camping Tent
Going camping is quite an adventure and a wonderful experience where you connect with nature and appreciate its beauty. To be able to enjoy your camping experience to the max, you need to get the right tent that fits your camping needs. The tent is where you relax and refresh for a new day and a new adventure, as well as stay safe at night from the wilderness out there. To choose the right tent, you need to understand the type of tent that works best for you and your camping trip circumstances. No need to worry about that because we are here to help you find out how to choose the tent you need for camping.
Choose the Tent Type that Fits Your Trip Conditions
Tents vary in weight and conditions they are designed to fit through. Camping tents vary based on the season you plan on camping on. If you're planning on going camping in warm or hot seasons, you will need a tent that's made of materials that can fit this weather. Winter camping tents are a different story since winter is rough and requires certain qualities that enable the tent to survive the cold. Some tents fit three seasons only, which are summer, spring, and fall. The perfect tent for these seasons is called a 3-season tent. If you want a tent that can stand the cold weather conditions, you need what they call a 4-season tent. The 3-season tent is lighter than the 4-season one and has fewer poles, while it is designed to allow more air in, so it's cool and nice inside. A 4-season tent on the other hand is heavier because the tent has more poles to keep it stable during strong winds, snow, rain, and other tough weather conditions.
Decide on the Number of People the Tent Can Fit
Knowing how many people you will share the tent with determines the size of the tent and space it will occupy. Another aspect to consider is the size of the people sharing the tent. Taller people and people who have big sizes definitely require more space than shorter or slimmer people. This is why you need to know who you will be sharing the tent with and a rough idea about their average sizes to decide on the tent size you need. Professional campers and camping experts at https://luxerover.com.au recommend that you choose the right tent size to fit everyone comfortably and enjoy camping peacefully. Relaxing and getting a goodnight's sleep is crucial to be able to have fun and enjoy camping, rather than feel tired and miss all the fun.
Know the Level of Effort Required to Set Up the Tent
Camping trips are usually for a limited time, so you don't want to spend half your time building your tent up. The number of people who share the tent with you helps you decide the level of difficulty or ease to set up the tent. Sharing the tent with a big number of people can allow you to get a tent that has more options and a technique that requires some people to set it up and finish fast and vice versa for a smaller number of people.
Single-Walled or Double-Walled?
Deciding on whether you need a single-walled tent or a double-walled one is settled based on how much ventilation you need. Deciding on ventilation is based on the weather conditions; a single-walled tent allows less ventilation but can resist more difficult weather conditions like rain and wind. A double-walled tent, on the other hand, allows more ventilation but is not very strong at resisting harsh conditions. This means that single-walled tents are more suitable for winter, while double-walled tents work better for warmer seasons.
Set Up the Tent at the Store
Always do a tent set up rehearsal at the store, so you don't find any surprises while you're camping and there's no way to get a different tent. Be extra prepared and examine your ability to set it up and how comfortable you are with its technique.
Now that you're on the right track to choosing the tent that best works for you, you're all set up and ready for going camping. You have your team and activities set, and an awesome tent that guarantees a well-deserved rest, all you have to do next is to have a blast camping and connecting with the world away from the madness of our everyday lives. Make sure to make the most of this experience because it will allow you to reconnect with nature.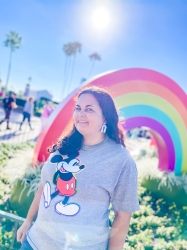 Latest posts by Krystal | Sunny Sweet Days
(see all)