5 Ways Traveling Can Help You in Language Learning
So, you want to learn another language, and you're thinking about the best strategy to do so. Apart from taking language lessons and working with a tutor, or using a credible language learning app, there are other ways you can enhance this process. Finding a way to truly experience this new language and use it in real-life might just be the best way to overcome that language barrier and start using the language freely.
Traveling can help you learn a language in practice. This method can easily turn out to be better than all the traditional ones you've tried so far. Below, we'll show you the 5 ways traveling will improve your language-learning process and help you speak up with confidence.
Travel Immersion
Learning a language is an ongoing process that practically never stops. Spoken language is not something you can master completely, no matter how much you study. The changing nature of the language will always bring out something new for you to learn, whether it's vocabulary, phrases, or slang. You can also try best online language tutors to help you learn!
Travel immersion is the best way for you to keep in touch with the language you're learning. While you travel, you get to:
talk to the locals
practice your language
listen to the most updated and fresh version of the language
This way you're acquiring language as you go and becoming more and more confident in your language skills. You get to update them with each new day and purposefully start conversations to never stop practicing.
Continual Learning
Another important aspect of learning a language while you travel is the opportunity to learn continually. You don't need a book, or a tutored lesson to work on your language skills. You just need to go out and talk to people.
Furthermore, you'll find yourself in various situations such as:
asking for directions
renting a car
ordering food
booking accommodation
chit-chatting with local people
There are brilliant travel apps that can help you plan your routes and get basic information about this new location. For the details, turn to the locals. Don't be ashamed to use the language, no matter how basic your skills are. The more you speak, the better you'll do it.
Save Money
You may not see it that way, but learning a language while you travel is actually saving you a ton of money. You are traveling and enjoying your time while also learning and acquiring new language skills.
This saves you money from:
paying a professional language tutor
paying for language learning apps
buying books and handbooks
Instead, you're working on improving your skills free of charge.
Understand the Culture
Traveling is supposed to be a valuable life experience. You're removing yourself from your typical surroundings and going someplace you know nothing about.
More importantly, you're experiencing a whole new culture.
As language is a crucial part of the culture, the only way to fully experience it is by using the local language. While doing so you'll learn so much more about the people who live there and the way they live.
You'll be hearing about:
the local customs
holidays and events celebrated locally
manners and courtesies
This will help you act respectfully with the locals and avoid offending someone or making them feel uncomfortable in any way.
Later on, you'll be able to use these language skills for business, education, or personal needs. Translation Report can help you with official written communication, while you're still learning the language.
Improve Brain Functions
Finally, language learning is said to be beneficial for brain function, as it helps your brain develop and improve. Using travel to learn a new language is helpful in improving a series of brain functions, including:
memory
concentration
creativity
self-confidence
As a result, you'll be thinking faster and performing better at complex academic or professional tasks. A meta-analysis by The British Academy examined multiple other studies and showed that in 90% of cases it was proven that language learners perform better academically than those students who only speak one language.
Final Thoughts
Learning a new language while traveling is precious for you on so many levels. Not only will you have a better, more authentic, and open-minded trip, but you'll also acquire seriously valuable life skills.
Hopefully, we've helped you realize just how beneficial learning a new language while traveling can be. Get ready to learn the basics before you go, and learn as you immerse yourself in the local atmosphere.
Author's Bio
Andrew Mazur is a professional language tutor and a travel blogger. He loves sharing simple tips on how to travel smarter and fall in love with the language-learning process. He's also passionate about photography and trying out different cuisines.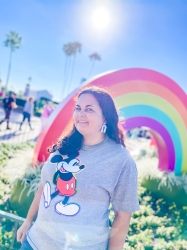 Latest posts by Krystal | Sunny Sweet Days
(see all)