Benefits of Learning the Local Language of Places You Visit
Traveling in itself is a valuable and exciting experience, no matter where you go or who you travel with. Changing your environment even just for a couple of days can help you recharge your batteries, get motivated, be creative, and simply feel better. But, you can make your traveling even more beneficial and exciting if you decide to learn the local language of the places you visit.
If you're not sure how this decision might benefit you, this article will help you understand. Below, we've listed all the precious benefits of learning a language as you travel, so just keep reading.
Immerse With the Locals
There's nothing better than experiencing your next travel location authentically as the locals do. You can google the best travel guides and tourist recensions online. But, these will simply provide you a typical touristic experience, that was artificially designed to accommodate tourists.
However, if you immerse with the locals and ask them for advice, you'll have a far more original and genuine travel experience. You'll be able to find the best local bars, restaurants, beaches, hiking trails, or whatever it is that you're looking for.
Get Around Faster
A lot of the time you spend while traveling is by asking for directions, driving around, looking at Google maps, and waiting for that bus to show up. If any of this goes wrong, you can end up wasting a lot of your precious, limited time.
But, if you learn even just the basics of the local language prior to arriving, you can:
read the street signs and local maps
make phone calls for accurate information
ask the locals for the best routes
This means you'll be saving both your time and money and focusing fully on having the best time of your life.
Make New Friends
Imagine how many people are out there, that would be great company and even a friend if you just spoke the same language. The language barrier while traveling can prevent you from making new connections and even potentially acquiring new friends.
But, if you can establish basic communication with the people you meet, this can positively impact language learning in the future, since you'll have someone to practice with. It's a win-win situation.
Be Adventurous
Cultural and language immersion can help you unveil a different side of your personality and encourage you to be more adventurous and unpredictable than usual.
You can decide to travel without a guide and fully rely on your skills of communication. That means no staying and huge hotel chains, no eating at the best-graded restaurant, and no going on organized touristic excursions.
Instead, you can:
stay at a local Airbnb and get closer to your host
ask around and come up with your own sightseeing plan
use the local train, bus, or taxi
stay out of your comfort zone the whole time
This is only possible if you speak the local language at least a little bit and know how to ask for help, advice, or guidance. It may be a bit scary at first, but soon you'll grow to like this feeling of liberty and deep immersion into the new culture.
Enrich Your General Knowledge
Finally, learning a new language will enrich your general knowledge and help you grow both personally and professionally. A study by the American Academy of Neurology showed that learning a second language helps develop new neural pathways in your brain. This helps you think faster and memorize better.
Plus, you never know when knowing another language might come in handy, so use your traveling to adopt as much of it as you can. You can use Isaccurate reviews to help find professional translation companies. Their certified language experts can translate more complex phrases or even establish written communication with someone you've met on your trip.
Final Thoughts
Language learning is a challenge and probably not your typical leisure activity. But, the benefits that come from using the local language when traveling will change the way you see travel forever.
We hope we've encouraged you to try and learn the local language of your next travel destination and truly immerse yourself in this new culture.
Author's Bio
Andrew Mazur is a professional language tutor and a travel blogger. He loves combining these two passions and writing about bilingualism, immersion travel, and self-improvement.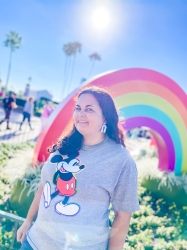 Latest posts by Krystal | Sunny Sweet Days
(see all)