6 Tips for Dressing to Impress On Your First Date
If you dress in an attractive and stylish way, chances are that your date will find you more attractive and interesting. Looking good gives the impression that you care about yourself and take pride in your appearance, which is something that many people value in romantic partners. Furthermore, putting effort into how we look can also make us feel more confident, which is essential for attracting others and connecting with them on a deeper level.
Work With What You Have
Getting dressed for a first date can be one of the most stressful parts of the whole experience. You want to appear attractive, yet effortless; confident, yet approachable. Unfortunately, it's all too easy to get hung up on finding the perfect outfit and ending up stressed, rather than feeling your best when your date finally shows up.
Instead of trying to work with what you're not sure will look great, why not try using what you already have in your closet? Every item in your wardrobe has probably had many different stages in its life: it's been through fashion trends, been paired with different accessories, and been worn by countless people in a wide range of circumstances.
Stick to Classic Pieces
You need to find a balance between classic pieces that never go out of fashion and up-to-date trends that will impress your date. For example, you might opt for a figure-flattering dress in a neutral color or pair of tailored trousers and a chic blazer.
Neutral colors will always look sophisticated and help to highlight your natural beauty, while simple silhouettes are always flattering for any body type. You shouldn't be afraid to add in some outliers, whether it's a trendy bag or statement earrings. Just remember to keep the overall look simple and elegant so that you can focus on having a great time with your date rather than worrying about what you're wearing.
Consider the Season
You don't want to be caught sweating through your clothes on a hot summer day. On the other hand, if it's cold outside, you'll want to make sure you're bundled up enough to keep warm. For instance, in the summer, you'll want to keep cool with breezy fabrics and lightweight layers. If the weather turns a bit chilly as the day wears on, you can always add a cozy cardigan and layer up with chic scarves and hats. In fall and spring, you may want to opt for flirty dresses and fun skirts that show off your legs. As temperatures drop in the winter, it's a good idea to go for cozy layers that keep you warm underneath your jacket or coat.
Accessorize Strategically
Accessories are a great way to add a personal touch to your outfit and show off your unique style. Whether you opt for subtle earrings and a statement necklace or bold diamond earrings and delicate stretch bracelets online, be sure that your choices complement each other and create a balanced and cohesive overall look.
This means choosing accessories that balance out your unique taste and help you to stand out in a crowd. For example, if you are drawn to bold prints and bright colors, you might want to opt for simpler jewelry or neutral-colored shoes. On the other hand, if you tend to stick with understated basics, you might consider adding a splash of fun by donning an eye-catching pair of earrings or statement shoes.
Avoid distracting accessories that may take away from the overall elegance of your outfit. For example, if you are wearing patterned shoes, stick to stud earrings like diamond stud earrings instead of dangle earrings or layers of necklaces.

Pay Attention to Fit
No matter how stylish an outfit is, it won't look good if it doesn't fit properly. Make sure everything fits well before heading out the door on your date. Nothing is worse than having to adjust your clothes all night long because they're too big or too small.
Confidence Is Key
Remember that no matter what you wear, the most important thing is that you feel confident in yourself. When it comes to styling yourself for a first date, there are many approaches you can take. Some may advise you to look sexy and flirtatious, while others might suggest being elegant and polished. However, no matter what your personal style is, the most important thing is that you feel confident and comfortable in your own skin. This will shine through in everything you do, whether you're talking and laughing with your date or simply taking a stroll along the boardwalk.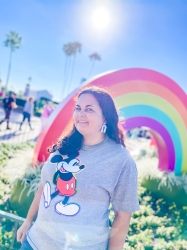 Latest posts by Krystal | Sunny Sweet Days
(see all)