Visiting Florida? Here Are The Coolest Breakfast Joints You Have To Visit
If you're visiting Florida, you're in for the best time of your life! Florida is one of the coolest states in the US; perfect weather, amazing beaches, and having a few of the most exciting attractions are some of the reasons that make Florida one of the best places to visit. Before visiting The Wizarding World of Harry Potter, Disney World, Universal Studios, and more of the endless Florida attractions, you probably need to stop for a delicious breakfast to give you enough energy to get the best out of visiting all the exciting places that are there to visit. The best thing about having the most important meal of the day at a breakfast joint is that you have a wide variety of mouth-watering breakfast options to choose from. We bring you some of the best breakfast joints that offer finger-licking breakfast you will fall in love with.
Fresh Heavenly Breakfast At Knockout Mini Donuts
The smell of the donuts being made is just breathtaking. You also get to watch every step of making the donuts before your eyes. A good deal of flavors on their menu is so amazing that you will want to try them all. Another plus about Knockout Mini Donuts is that the people working there are very friendly and welcoming that makes you feel right at home.
Mix And Match At Corner Bakery Cafe
When you're in the mood for a menu that offers a variety of meals you can eat for breakfast, even if they sound unusual, Corner Bakery Cafe is the place you want to go to. Besides the different delicious plates that the cafe offers, they also have great bakery prices, besides non-baked foods and goodies. Their prices are pretty great, parallel to their yummy menu. You can also get a perfect cup of your favorite coffee and add any flavors you want.
Have A Quick Delicious Breakfast At Cinnabon
If you want a quick warm breakfast and a fresh cup of coffee, Cinnabon is the place for you. Try their warm rolls covered with cheese, cinnamon or chocolate, or blueberries, and other flavors that you would like. They're perfect if you don't want to be late for some of the best attractions in the morning, yet still want enough energy to make you stay awake and energetic for the whole day.
Try The "Best Breakfast" Local Award Winner The Perfect Cup
The Perfect Cup is a cozy little place with a cool design inside that offers warm, delicious breakfast the way you want it done. The food there is amazing, their staff are friendly and serve your food in an instant. It's one of these places that you might miss if you just pass by, but when you try their tasty breakfast you'll want to go again and again. It's a little place that you will never regret visiting. Not only that, but you'll also recommend The Perfect Cup to people.
Experience Something New At Native Cafe
This place is owned by natives who serve famous deliciously made breakfast dishes any time of the day. Whether you're a morning person who loves an early breakfast or likes to sleep in and eat breakfast at lunchtime, you will find breakfast meals offered.
Have A Romantic Breakfast At Maxine's On Shine
One of the super cool things about Maxine's on Shine is that it has a classic 40s design. It's a gorgeous place that serves a mix of American cuisine and a little splash of Asian sauces that make food so appetizing, you won't get enough of it! The setting gives it a romantic air so you can have a breakfast date for a change. Who said breakfast can only be romantic when served in bed? Give Maxine's a try, and you'll be thankful you did.
Breakfast At Disney's Animal Kingdom Is Perfection
What's better than having breakfast before starting all the marvelous activities in Disney's Animal Kingdom? Of course, getting breakfast inside Disney's Animal Kingdom! Boma is a unique African breakfast place where you can try different African breakfast plates and drink authentic African coffee. It's quite an awesome experience that you don't want to miss on your visit to Florida.
Having delicious food to enjoy in Florida is alone a reason to travel there. Just enjoy the gorgeous state and its wonderful places to hang out and chill, and visit your favorite places from some of the greatest movies of all time. This is going to be an unforgettable trip you will want to try many times. Visit the gorgeous theme parks and give your taste buds some delicious treats as an extra reward on this beautiful trip.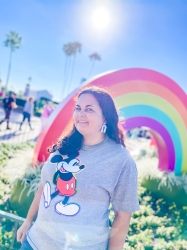 Latest posts by Krystal | Sunny Sweet Days
(see all)