Discover the Ultimate New Smyrna Beach Adventure: Beach, Bites, and Kayaking Bliss!
New Smyrna Beach is a charming coastal town in Florida that many consider the ultimate vacation destination. Known for its pristine beaches, lively atmosphere, and adventurous activities, this coastal gem offers countless opportunities for families, couples, and solo travelers alike. In this post, I'll guide you through the best of New Smyrna Beach's activities, from beach-hopping and local eats to kayaking tours and more. So grab your sunscreen, pack your bags, and get ready to embark on a memorable beach adventure!
Where is New Smyrna Beach?
New Smyrna Beach, Florida, is a hidden gem that draws visitors for its pristine beaches, unique wildlife, and vibrant downtown area. Located on Florida's Central East Coast, New Smyrna Beach is perfectly situated between Daytona Beach and Cocoa Beach, providing a wealth of entertainment options while maintaining its small-town charm. Beyond its shores, the city offers a diverse array of activities to enjoy, from exploring the region's rich history to embarking on thrilling water adventures.
Where can you stay in New Smyrna Beach? The Riverview Hotel!
The Riverview Hotel is a charming, historic hotel in the heart of New Smyrna Beach.
Guests can choose from a variety of accommodations, including suites with private balconies overlooking the Indian River.
The onsite restaurant, The Grille at Riverview, offers delicious cuisine and stunning views of the water.
The Riverview Hotel's prime location makes it the perfect base for exploring the best of New Smyrna Beach, including the historic downtown area, the beach, and the nearby Canaveral National Seashore. We stayed on the third floor with a balcony view of the drawbridge. It was quiet, quaint, and so cozy! We loved our king bed and view.
The pool was very relaxing with lots of wicker chairs and loungers.
What are the beaches like in New Smyrna Beach?
New Smyrna Beach boasts miles of picturesque coastline, making it perfect for beach-hopping. Spend the day exploring the various beach access points, each offering a unique experience for sun-seekers. Whether you prefer uncrowded spots for relaxation, beaches bustling with activity and water sports, or dog-friendly shores for your furry friend, there's a beach in NSB for everyone.
We could walk from our hotel to the beach on Flagler Avenue. We enjoyed the views, the crisp cool water, and loved how you can drive your vehicle on the beach if you so desire. Don't worry – it wasn't too chaotic! The sands of New Smyrna Beach have PLENTY of room for cars, pedestrians, beach lovers, and surfers!
Where should we eat and drink in New Smyrna Beach?
Yellow Dog Eats
Third Wave Cafe
The Grille at Riverview Inn
Norwood's Treehouse
We had the most amazing appetizers and cocktails at Norwood's Treehouse. This classic establishment has BEAUTIFUL views and is such a fun experience. Yes, it really is a treehouse. This cocktail, pretty in purple, is called "a prima idea." It was citrus rum, ube, condensed milk, lemon, and orange. It tasted like a milky cereal! So unique and delicious.
The first night we had dinner at Third Wave Cafe. Honestly, this may have been the best meal my husband and I have ever had. Yes, there was pizza for the kiddo, but the filet blew us away!
We also had meals at Yellow Dog Eats (quick, delicious, fun for lunch!) and the Grille at Riverview.
Explore Marine Wildlife
One of the top activities in New Smyrna Beach is taking a guided kayaking tour through the area's diverse ecosystems. These tours offer the opportunity to get up close and personal with marine wildlife, such as dolphins, manatees, and a wide variety of shorebirds. Local tour operators like Marine Discovery Center provide expert guides and all the necessary equipment for an unforgettable experience.
Marine Discovery Center
The Marine Discovery Center, along the Indian River, is a must-visit destination for nature enthusiasts. The center offers guided eco-tours, kayak tours, and hands-on educational exhibits to help visitors learn about the diverse marine life found in the area's estuaries.
Manatee and Dolphin Watching
Keep an eye out for manatees and dolphins during your time in New Smyrna Beach. These gentle creatures are often spotted swimming in the Indian River, and there's truly nothing more magical than watching them glide through the water. We took an eco cruise during sunset and got to see dolphins, the lighthouse, and more marine life on our trip!
Exploring the Historic Downtown Area
Downtown New Smyrna Beach is a charming and vibrant destination, filled with an array of shops, galleries, and restaurants. Take a leisurely stroll down Canal Street and Flagler Avenue, where you'll find unique boutiques, art galleries, and cafes housed in historic buildings.
We stopped for black and blue sour beers at New Smyrna Beach Brewing Co. and enjoyed walking through The Hub for local art.
Besides its shopping and dining offerings, downtown New Smyrna Beach is home to several historic sites and museums, such as the New Smyrna Museum of History. A visit to the downtown area provides the perfect opportunity to learn about the city's rich history while soaking in its charming atmosphere.
Other Activities
Fishing: With its rich variety of marine species, New Smyrna Beach is a haven for fishing enthusiasts. Cast your line from the shore, rent a boat for a day of deep-sea fishing, or join one of the many fishing charters available in the area.
Surfing: Known as one of the world's top surfing destinations, New Smyrna Beach offers excellent wave conditions for both beginner and experienced surfers. Take a lesson at a local surf school, or rent a board and hit the waves on your own.
Golf: The area is home to several top-notch golf courses, such as the Venetian Bay Golf Club and the New Smyrna Beach Golf Club, providing a challenging and enjoyable golfing experience for players of all skill levels.
Whether you've spent your days exploring marine life, trying new water sports, or simply relaxing on the beach, a sunset on the shores of New Smyrna Beach is the perfect way to bid farewell to this captivating destination.
New Smyrna Beach offers an idyllic coastal retreat for those seeking sun, sand, and adventure. With its pristine beaches, vibrant downtown area, and an array of water activities, there's something for everyone in this charming Florida city. From luxurious stays at the Riverview Hotel to unforgettable marine explorations, New Smyrna Beach provides an experience you won't soon forget.
New Smyrna Beach, a beautiful coastal city in Florida, provides the perfect escape for anyone seeking sun, sand, and adventure. This quaint city offers a peaceful atmosphere, rich history, and stunning natural beauty that will captivate your senses. In this blog, we'll guide you through the best experiences New Smyrna Beach offers, from the unforgettable Riverview Hotel stay to exploring marine life and indulging in various water sports.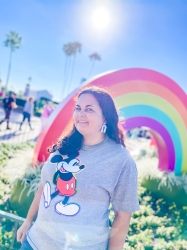 Latest posts by Krystal | Sunny Sweet Days
(see all)