Amazing Ways to Make Your Family Trip More Fun and Delightful
Are we there yet?' the four-letter sentence that every parent hears a thousand times when out on a trip. It can trigger anxiety, and honestly, it is annoying. When you finally get there, you want it to be worth the trouble. With a few strategies, you can make your trip just as fun as the destination. Here are some pointers to make your family trip more delightful. 
Choose a Family-Friendly Destination
With family trips, nothing is more important than your choice of destination. While there are thousands of destinations in the world, they aren't all appropriate for your family. Luckily, most hotels, attractions, and tours offer family-friendly fun. There are entertainment options for all ages.
Think of the specific needs and interests of your family. What do you like to do? What are the unique preferences of different family members, and what will excite the kids? With this information in mind, you can start looking at different destinations. The most common options for some family fun include water parks, museums, and destinations with marinas.
When creating a plan for your family-friendly trip, find a destination with the highest number of attractions and activities. The best destinations incorporate outdoor activities (camping, hiking, playing, etc.) with natural sights (beaches, mountains, lakes, etc.). They may also feature man-made features like rollercoasters and waterfront arcades. The goal is to have as much variety as possible.
Rent
Family trips can get expensive, and renting is always a good idea. It will help you get the fun you want without having to spend too much. While you must have car seats and strollers, note that destinations like Universal Studios and Disney World offer solutions on-site. Renting from them may be convenient. Find destinations that offer such solutions at low costs to save money. Otherwise, it makes sense to bring your own.
Consider renting an RV when going on a camping trip. The team at RVezy advises that you double-check to ensure that the campground you choose is family-friendly. You should be able to enjoy the camping experience while also accessing your favorite amenities. With RVs, renting is your best bet.
Plan Ahead
It is impossible to have a fun family trip without a proper plan. Think of everything you want to do and write it down. While you need to be specific about everything you want, your plan must be flexible. Consider looking at online resources for tips.
Learn about the attractions you will be seeing, the activities at your destination, and how long they take. If you don't know what to expect, you will waste a lot of time while at the destination. Ensure that the activities you choose are within your price range.
If you want to go on tours, research them ahead of time too. Look at different options, how much they charge, and what they offer. Ensure that you get the best provider at the best price. With proper preparation, you can maximize your time and money.
Let the Kids Have Some Space
You probably want to spend all your time with the kids while out on a family vacation. However, that isn't a good idea. Like adults, kids don't want to be smothered. They want time to decompress and unwind after a long day. If you press too much, you may ruin their experience. Don't pack every minute of the day with activities and then wonder why no one seems to be having fun. When creating your plan, leave a few blank spots for the kids to rest and pursue solitary forms of fun.
Space for kids is more than just a few minutes by the pool. It is striking a balance between family fun and solitary ventures. Find quiet spots like clifftop overlooks and secluded parks to offer a balance from crowded destinations.
Plan for a Surprise
Your family can get jaded during a trip, but a few surprises here and there will help keep things exciting. Find clever ways to engage and surprise them with inventive escapes and attractions. Your surprises don't need to be expensive. They can be as simple as taking them to an extra destination that you know they'll love. Another idea is to give them unknown facts about the town you are visiting. Whatever you do, keep them guessing and ensure that your surprises match their interests.
Choose a Good Time to Travel
Just because you are ready to travel doesn't mean your entire family is. When planning your trip, choose a time that works for everyone. Don't assume that your kids are happy to travel just because they're on school holiday. Involve them in the process of choosing a travel date. It gets them excited for the trip and lets them understand that their input is important. Choose a season in consideration of your destination. With popular spots, for example, it would be best to avoid the crowds of peak season.
Make It Educational
While no one wants to learn on a trip, it can be fun. Kids like learning random facts, especially when they are taught in a fun way. You don't need to visit history museums or old churches for your kids to learn. Travelling offers learning opportunities no matter where you go. There are lots of new cultures, cuisines, and traditions to be explored. Trips also offer the chance for your kids to learn responsible tourism. They can learn safety tips and the benefits of protecting the environment. Education on family trips is not just for kids. Adults can learn too. Learning as a family is unforgettable.
Some of our best memories are of childhood family vacations. Travel is not just fun. It helps create lifelong memories, strengthen family bonds, and open up your eyes to new experiences. However, planning and going on family trips can be a huge headache for the parents. Even when you have the best intentions, children can be unpredictable and difficult to please. Simple tips to make your trip memorable include planning ahead of time, renting where necessary, and traveling at the right time.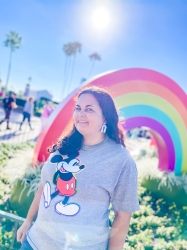 Latest posts by Krystal | Sunny Sweet Days
(see all)