5 Best Translation Apps for Travelers in 2023
Translation services have become a large industry in their own right. The total value of the global language industry has gone beyond $46 billion in the last several years. Lots of companies are now producing translation services and apps to make our lives easier.
Those who travel a lot are amongst the biggest users of translation apps because it is impossible to know the languages of all countries you visit. It is equally unrealistic to expect yourself to pick up the basic language when you are short of time. Even if you do, you are sure to find yourself in a situation where you have no clue about what locals are talking about. That's when a translation app can come in handy.
Check out our list of top 5 translation apps that will make your life easier.
Microsoft Translator has quickly gained popularity since its launch. It includes approximately 90 languages, and the quality of translation is broadly recognized as fairly decent. Many travelers opt for this app for its relative ease of operation.
The app is particularly enjoyed by those who want to have group discussions and conversations. Thus, they are able to create communities of practice, sharing tips and best practices with one another. What's more, you can use up to 50 languages when offline. This a real bonus for travelers because not all your destinations will have a reliable internet connection. In addition, you can enjoy live translations in more than 30 languages. Overall, a great choice for those traveling frequently.
Compatible with both iOS and Android devices, Waygo is an award-winning app that travelers use to translate signage and menus. All you need to do is point your smartphone to the target sign or menu. You will get an instant version in your language. On top of that, you don't need to be online to use the app.
Waygo is a favorite app for many customers using multilingual translation services. It has proven to be a reliable resource. It has also gained lots of customers on all continents of the world.
Waygo has become indispensable for those traveling to Asia because it includes all major Asian languages, such as Chinese, Korean, and Japanese. The feature of voice translations is also very popular because you want to get the pronunciation right.
With iTranslate you join a large community of users. The app includes 40 languages to provide instant translations. It gives millions of loyal customers impeccable voice translations. The great thing about the app is that it includes over 250 pre-defined phrases that can help you deal with almost every life situation day in and day out.
Customers like the voice input and output most when they use the app. Downloading is easy and hassle-free via App Store or Google Play. It takes a couple of minutes to learn the main features and start using the app.
Another great app for travelers who go on business trips or study trips. Papago supports 13 languages, including English, Japanese, Chinese, and others. This is an app created in South Korea, so it is a great resource when you travel to Asian countries. It offers handwriting and website translations, phrasebook sections, and language detection.
What's more, the app can be used in an offline mode. It usually comes up in the list of tips for traveler in many online publications. The app is particularly useful for those learning one of the major Asian languages.
This is a perfect option for those who need instant communication. The app allows you to have conversations by typing rather than speaking. It supports more than 40 languages, including English, Arabic, Spanish, French, and many more.
The app includes a voice recognition feature to enable text-to-speech functionality. This is extremely useful when you learn a new language. The app is extremely popular among college students who travel a lot. Customer reviews also point to the effectiveness and efficiency of its features.
Final Considerations
When you travel, you cannot rely on your knowledge of English only. There are lots of places where people don't speak it, so you need a reliable and trustworthy translation app to come to your rescue. We have reviewed the 5 best translation apps that will make your trip easy and trouble-free. Download them on your mobile device, learn more about their pros and cons, and use each of them depending on the circumstances and your destination.
***
Andrew Mazur is a professional writer and a long-timer in translation services. He is also a researcher and tech nerd. Andrew manages to combine and draw on all his skills and experiences to share insightful articles and blogs with students. He never disappoints with his whip-smart observations, witty advice, and easy-to-follow tips.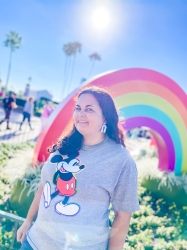 Latest posts by Krystal | Sunny Sweet Days
(see all)