How to Save Money on a Wedding Dress
Many brides dream of a spring wedding, so I decided to whip up a few posts about planning a budget wedding! I was married in 2011, and I know things have changed since then. However, some of the styles and many of the DIY ideas are still relevant. Did you know that I planned a wedding before Pinterest? I can't even imagine a world without visual bookmarking! Anyway, prepare to read a few tried and true tips to planning a wedding this week! I hope that it helps and inspires you to plan your own fete or share with a friend who needs a few ideas. Happy planning!
Are you trying to say yes to the dress, but your budget keeps screaming no? Buying a wedding dress can be a very exciting time, but the strain on your budget can be quite stressful. Instead, take a look below for some helpful tips on how to save money on a wedding dress. You can still get a dress that looks amazing, will wow your guests (and groom!), while keeping your wallet happy too. Take a look!
How to Save Money on a Wedding Dress
1.  Shop at an outlet. Outlet shops are a great way to get overstock dresses and gowns for less. Don't have one in your area? It may be worth the gas to drive an hour or so to the nearest bridal outlet. If you don't have one in your city, spending $40 on gas to drive to an outlet may be worth the $200 you save on a dress.
2.  Peek at the prom section. Prom dresses have become quite fancy these days. For an afternoon wedding or small yet glamorous event, see what prom gowns might be available in white or ivory. Chances are you can still find a beautiful floor length or cocktail dress with all the crystals and beading you desire. The best part? You will pay 1/3 of what you would pay for a bridal gown. I actually found my dress off the rack at Dillard's on clearance. While it might not have been the dress I was envisioning, I actually REALLY loved it.
I purchased it "just in case," but I ended up just going with it. We were having a beach wedding. I didn't need a lot of fuss!
3. Remember, dresses can be altered. Did you find an inexpensive dress you love but it's not your size? No worries. See what your options are for having it altered. It may be worth the $100 to have it altered if you save $300 on the dress. Remember you can also add/remove sleeves, lace, beading and more to make it more your style.
4. Opt for third party alterations. Chances are, the bridal boutique you purchase your dress from offers alterations at an outrageous cost. Instead, opt for a third party seamstress. If you are unsure, there is nothing wrong with shopping around to make sure you get the best price.
5. Shop these hidden gems. Did you know many retail stores sell wedding dresses on their websites? Target and J Crew both offer beautiful wedding gowns on their websites. And just like most of their merchandise, you can score it at a great price. Use the sizing charts and be familiar with return policies before you purchase.
6. Ask for a discount. Did you find a dress you love? Don't be afraid task for a discount. You can politely ask "What is your best price?" on the dress to see if any further discounts are available. This is a great question to ask if the dress is nearing the end of its season or perhaps if it is a floor model. I typically don't suggest to ask for discounts on other wedding services (vendors work hard for their money!), but perhaps a dress store might be able to work with you.
7. Ask for a bulk discount. If you buy your bridesmaids dresses, mother of the bride dresses, or other items at the same boutique your dress is from, ask for a bulk discount. Chances are they will be happy to give you one since you are purchasing so much.
Give these tips a try and you will find that it can be quite easy to score the wedding gown of your dreams for less!

What's your dream wedding dress?
When you give these budget savvy tips a try, you can make a statement on your big day for less. This is the next article in a series about wedding budgets and DIY for busy brides. Prepare to read a few tried and true tips to planning a wedding this week! I hope that it helps and inspires you to plan your own fete or share with a friend who needs a few ideas. Happy planning the wedding of your dreams!
Want more wedding tips? Read on!
Budget Wedding Tips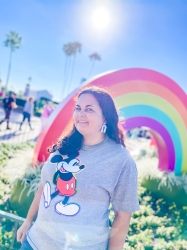 Latest posts by Krystal | Sunny Sweet Days
(see all)