What to Wear For Your Family Photos
Every Sunday I will share easy photography tips for new photographers, busy bloggers, or those who just want to learn more about staging and styling photographs. I'll let the experts teach the technical stuff, but I'm teaming up with Mariah Meyer Photography to bring you ways to save money on your gear, easy ideas to take better photos, and simple styling tips. Today's topic is all about what to wear for family photographs!
What to Wear to a Family Photo Shoot
Do NOT match! You NEVER, EVER want to wear the same colors! The days of white t-shirts and jeans in photos are long gone, and hopefully never coming back! Don't wear the same color shirts, pants, shoes, stay away from matching entirely. I know this sounds crazy, but you want to mix it up.
Vary the colors. There are many ways to "match" and not wear the same color. Pick a few colors that compliment each other and have each person wear a different color. If there are more than four or so people in the photos, add in varying shades of the same color. You also never want to wear just plain shirts or basic t-shirts, make sure there is good style. There are TONS of places online to see examples of what to wear.
Add in some patterns. Don't fear the patterns! Start by picking one person's outfit that has a pattern, and no I do not mean stripes or polka dots, think more floral, and base the other ones around it. Typically either the mother can wear a patterned dress, or youngest girl, a patterned dress or romper. Base the rest of the outfits around that outfit, using similar colors that are in the pattern for others.
Skip the white and black. Don't wear white or black, color is your friend when it comes to photos. Black and white will wash out skin tones, make redness appear more in photos, and overall doesn't look the best. Skip the black and white and bring in that color!
Beware of your shoes! So many people forget to take in to account their shoes, it's usually the men in the photos. They'll have a great outfit, but then they wear the sneakers that they always wear. Unless this is the look that you're going for, it looks terrible in photos. Be sure to wear nice dress shoes or something that doesn't have dirt, and grime all over them for your photo session.
Think about your jewelry.  Jewelry is always acceptable in photos, however, think about it before you put it on. Is it something that you will need to adjust every few seconds, will it flip around? Does it move easily? Wear things that are easy and something that you won't mind taking off if it does end up getting in the way.
Wear glasses? If you wear glasses, consider using contacts for a photo session, especially if you are going to be outside. You can wear glasses in photos, however, it brings out the eyes much more when you aren't wearing them. Wearing glasses may mean that your session will take longer to get the proper angles while your photographer is shooting.
What tips do you have?
Where is your favorite place to take photos of your kids?
Photography Tips for Families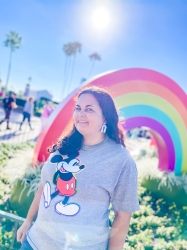 Latest posts by Krystal | Sunny Sweet Days
(see all)