Important Things To Think About While You're Planning A Wedding
Weddings are a joyous occasion, but they can also be stressful. Whether you're the bride or groom, there's a lot of planning to do. Many things must be considered if you want your wedding day to go off without a hitch. In this blog post, we discuss some important considerations while planning a wedding and how to make sure that everything is perfect for your big day!
Write Down The Details Of What You Need
This would include the date, location, dress code, who should attend/not attend, any decorating that may need doing which could be anything from centerpieces, lighting, or even seating arrangements depending on what type of event family members want to make their presence known at. Also, don't forget to hire a perfect wedding photographer to capture the memory. Once your invites are sent out, you can focus on preparing for all that needs to be done beforehand, such as catering or favors. Venues normally require payment in advance so keep this in mind when planning expenses budget-wise, although they do offer package deals where everything has been paid for already, negating the hassle of having one more thing added onto an already busy schedule.
Guests should feel welcome but not overwhelmed by too much information, which could cause them stress or confusion if it's unclear what type of event they are attending. Once these details have been established, you can move on to creating invitations with RSVP cards enclosed where needed. These invitations should include the day, date, and time of the wedding. If you have a location in mind it is recommended to include this information, but if not, leaving it up to guests will save you some stress.
Make A Budget
A wedding budget is a plan for how much money you should spend on specific categories of expenses such as flowers, invitations, and catering. It will help take the stress out of planning and allow you to stay within your means while creating an unforgettable event that reflects who you are as a couple. There's no better feeling than knowing all aspects of your special day were planned with careful consideration and attention; whether it entails beautiful decor or custom details like monogrammed napkins! A detailed list can also help point guests towards other opportunities to get involved, such as donating towards customized favors (a great way to make friends!). You may even discover some savings along the way as well!
Work With Suppliers That You Can Trust
When you're meeting with suppliers, think about how they communicate and treat their customers. Sit in on the consultation if possible before signing anything to see the level of service for yourself.
If you don't know anyone personally who has used a supplier – or there is no one around your network that is getting married soon – check out reviews online from other real brides and grooms.
If any of your friends have used them recently- contact them and see what their experience was like. Ask around – don't just take it at face value when someone says 'they were good'. It doesn't hurt to ask other people too, especially those you know personally because we all tend to remember bad experiences
Order And Buy Everything As Early As Possible
Don't make any decisions right before the wedding – this is when you'll get stressed and want to rush everything. Make sure that whatever supplier you're using, they have a deposit system in place so that if anything goes wrong it can be fixed quickly.
If possible, check your suppliers' website for an online shop or catalog, too. This will save time in-store/at home trying on dresses with the family.
You don't even need to leave the house at all sometimes, which we know sounds crazy but saves SO much time, especially if someone else is looking after kids whilst shopping with friends or bridal party members who can help pick stuff up for you while they're out.
It's also nice to peruse the internet in your PJs and check things off lists or make notes of dresses you like without anyone watching!
The most important thing to remember when planning a wedding is that it's your day, and you should do what you want. You don't need an expensive cake or fancy invitations. And if someone has another opinion than yours, just let them be–it's your choice! The next thing to keep in mind is not to get too stressed out about the details because life will go on no matter how everything goes at that point. Lastly, make sure there are a lot of great memories from your special day as well as some hilarious ones- those moments will last for years after all the guests have gone home! Stay happy and stay safe with these things in mind as you plan your wedding.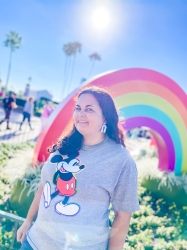 Latest posts by Krystal | Sunny Sweet Days
(see all)