6 Fun Things To Do With Your Partner On Vacation
Vacations allow us to relax, relieve stress, and get away from the real world for a little while. However, it is also an opportunity for us to spend time with our partners in new ways. It can be a great time for couples to reconnect, have fun and get creative with each other. It's the time you should use to create memories with your significant other. From going on a date together to going on a scavenger hunt, there are so many ways you can spend your time together without having to rely on the same old routines. Here are six fun things you could do with your partner while on vacation!
1. Have a spa day
Vacation is a great opportunity to relax and take time for yourself. A spa day is a perfect way to take time out. You can take massages or enjoy other relaxing treatments, such as manicures and pedicures. If you decide on taking a massage, be sure to choose a location with a couple's massage. This is a great way to relax and bond with your partner in the process. Besides that, some spa centers also offer different kinds of treatments like hydrotherapy or aromatherapy so you and your loved one can relax and enjoy yourselves to the fullest. Whatever you choose, you'll definitely have a good time during the spa day.
2. Have an adventure
On the other hand, if you're feeling a little more adventurous, then you and your partner can do some fun activities outside together. That may include going on a hike, going kayaking, or skydiving.
Hiking is a good way to engage in physical activities together without completely exhausting yourselves. It's an activity that can be both fun and challenging at the same time.
Another good activity to do with your partner is kayaking. If you decide to do this, make sure that you choose a location that offers two person kayaks. That way, it will be more intimate and romantic as you paddle together in the same boat. At the same time, you're going to explore beautiful nature and have a great time.
If you're not too much interested in hiking or kayaking, try skydiving. This can be an exhilarating activity to do with your partner – only for the most adventurous couples! It's a great way to connect and build memories together. It's best if you choose this as part of a package so that you can enjoy other activities together after skydiving.
3. Get creative
Another way you and your partner could enjoy yourselves is by engaging in creative activities together. This can include painting, pottery, playing an instrument, or anything that makes you get creative! It's also a good way to get closer psychologically. Be sure to choose a creative activity that you both enjoy.
4. Watch TV
Watching your favorite TV show or movie is a great way to spend time with your partner. You can watch shows or movies that you both like, such as sitcoms or romantic comedies. Just settle with each other on the couch and enjoy yourselves in silence while watching a good TV show. It's a good way to just relax and have some fun together.
5. Play a game
Another good idea for things to do with your partner in a fun way is playing games together. The game doesn't really matter, but it should be something that both of you enjoy doing (think scavenger hunts, trivia games, card games, etc.). Playing games is a good way to have some fun, bond with your partner and just relax all at once.
6. Go on a date
Probably the most famous activity that couples do during vacation (and another highly recommended idea) is going on a date together. During your date, you could choose to go out for dinner and drinks or go to an event out, like a concert or play. It's also a good idea to choose an activity, such as visiting art galleries, trying new cuisines, etc., so that you and your partner could learn more about each other. Either way, going on dates is a great way to bond with each other.
If you need some ideas on how to spend quality time with your partner while traveling, consider these six fun things that are sure to be a hit! It doesn't matter if you want to go on an adventure, or just relax – you and your partner can always find something to do. Every activity is sure to bring you closer together and help you make some new memories. All it takes is creativity and a little bit of spontaneity!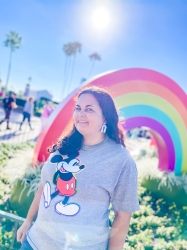 Latest posts by Krystal | Sunny Sweet Days
(see all)