Want A Hairstyle With Bangs? Here Are Your Options
If you're looking for a hairstyle with bangs, there are many options. Hairstyles come in all lengths and styles, so it doesn't matter what your preferences are. You can find something that goes well with the shape of your face and your hair type! Here are your options if you want a hairstyle with bangs.
Styling Your Bangs At Home
If you have straight hair that stops just below your eyebrows, then choose a side-swept fringe with long layers throughout the top of your head while keeping them short on the sides and in the back where they are most visible when looking from different angles. You don't need to go to the salon to style your hair. This guide on How To Cut Curtain Bangs will come in handy to help you achieve a stylish look right at the comfort of your home. If you have thick curly hair or coarse hair, it can be difficult for stylists because these types of locks aren't easy to work with, so find an experienced one who knows what she's doing or go somewhere else.
However, this doesn't mean that there isn't a solution for this type of hair. If you have coarse, curly locks, ask your stylist to cut layers into the top and crown area of your head while keeping them short on the sides and in the back, where they are most visible when looking from different angles.
Consider Choosing The Right Bangs For Your Face Shape
Choose the style that will compliment your hairstyle, hair color, and face shape. By now, you should have a better idea of what hairstyle and face shape is best suited to your personality and lifestyle. Take this information and work it into the following guide on how to choose the perfect hairdo that will match up nicely with your style needs!
Types Of Bangs To Consider
These might include; blunt, side-swept, wispy, asymmetrical, or even feathery. A hairstyle with side-swept bangs can be parted on the left or right, depending on your hair texture and face shape. This works well for thick hair to give it some volume. Hairstyles that work best with blunt bangs are those where you want to highlight a certain part of the face like high cheekbones – this hairstyle is great if you have fine hair as it will make your locks look fuller. Hairstyles with wispy bangs will look best on people with thin hair. Hairstyles that work best with asymmetrical bangs are those where you want to look sassy and flirty. Hairstyles that require feathery bangs will suit women who have wider foreheads as it creates the illusion of a narrower forehead.
Tips On How To Keep Them Looking Fresh And Neat
Don't wash your hair every day. Use a microfiber towel when drying your hair. Spray with hairspray before going outside in the wind or humidity, so they stay put. Hairstyles that will give you a stylish look will include; lots of updos which you can style easily at home by adding volume in sections instead of curling all your locks! You can also add a bit more volume towards the front of the face if there is not much height from being pinned back into an upstyle. Another great way to get bangs is by using clip-ins that are undetectable once they have been clipped onto existing strands. This makes it easy for anyone to have bangs without taking too much time to style them.
How To Style Your Hair With Bangs?
As stated before, you don't always need to grow out your bangs for them to look good; there are many ways of styling hair with bangs. If the hairstyle is short and has a lot of volume at the top you can very well pull back all your hair and still leave some pieces in front as if they were natural partings. It'll be up to you whether you want loose waves around your face so that no bangs are visible or whether you'd rather have them sticking out from behind your ears.
What Are The Different Ways You Can Wear A Headband With Bangs?
A headband with bangs can be worn to the side, in front of the face, and even at the back. It really depends on your preference and how you want to look for that day or night. Using a cloth material like silk is great as it will not stick onto your forehead, which results in less discomfort throughout the day. You may opt to wear some jewelry such as necklaces or rings along with this hairstyle so as not to feel too plain during those events where you need more attire than just hair accessories alone.
When it comes to hairstyles, bangs are one of the most versatile and popular choices. If you're thinking about getting a new cut but aren't sure what type of style is best for your face shape or hair texture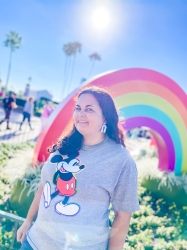 Latest posts by Krystal | Sunny Sweet Days
(see all)