5 Tips for Planning a Successful Group Business Trip
Organizing a business trip for a single traveler can be challenging. Planning one for a group can even be more daunting.
Starting as early as possible can make your job easier and boost your chances of planning a smooth, successful group business trip.
With enough time, careful planning, and the right group charter flights, you can ensure you and your colleagues have a stress-free and pleasant experience even before your trip begins. You can make the most out of your business travel as well.
Planning a Stress-Free and Productive Group Business Travel
Below are some tips that can help you plan a successful group business trip:
Plan ahead.
As mentioned, planning as early as possible can reduce the potential hurdles and hassles you might encounter.
Because of this, plan in advance as soon as you know you and your group are going on a business trip.
First, get the details of when and where you're going and what you're supposed to do. Next, take the time to know your fellow travelers, especially if you're not fully acquainted with them yet.
Make sure you are aware of your companions' needs or conditions, including mobility issues and allergies, so that you can make special arrangements if necessary.
Last, ask about your companions' travel and accommodation preferences. Find out if they prefer hiring a private car over taking public transportation and if they are amenable to sharing a hotel room or not.
Knowing these details early can help you get off to a good start and manage the trip planning process more efficiently.
Set your budget.
A group business trip can put a huge dent in your company's finances. As such, create a budget that covers all the trip necessities.
Your budget priorities should include flights, accommodation, food, transportation, and contingency funds.
If you want to add some group activities in Abu Dhabi you and your team can participate in, get approval from the accounting team for the cost.
Work with the accounting team to check if your estimate is realistic. Be honest with them and open to their recommendations so that you can have a budget everyone can be happy with.
Consider chartering a private jet.
Regardless of how many you are in your group, you and your fellow travelers can embark on your trip safely and comfortably and use your time more efficiently when you fly via a private jet.
The comfy and plush seats and spacious legroom in a private aircraft allow you and your companions to feel more at ease and relax during the flight.
The facilities can also help you and your team engage in discussions when necessary and do any work you might need to do.
The relaxed baggage rules also let you and your group bring more luggage, including bulky items, such as AV equipment required for your presentations and temperature-sensitive products you may need.
Hiring a private jet is also a more cost-efficient option, particularly if you are traveling with a large group and with high-ranking executives. It can be more affordable than booking individual flights on first or business class tickets.
A private jet offers several advantages for group business travel, so consider this option for your trip.
Create your itinerary.
A successful group business trip entails completing all the tasks you set or were assigned to do and achieving your goals.
You can do this by knowing what you need to do and what should happen every day of your trip.
Make a schedule that includes all the activities and events that need to happen during your trip. Be as detailed as possible to reduce confusion and ensure everyone is on the same page.
You can then use this itinerary to stay on top of all your activities, including travel and meeting times.
Don't forget to include time for recreation and relaxation in your itinerary so everyone can enjoy the trip.
Once you have an itinerary, share this with your group. Ask them for their input or comments to ensure everyone can work with and is happy with the schedule.
Choose your accommodation wisely.
Putting careful thought into your accommodation can make a significant impact on your group business trip.
To choose the right lodging option, check your itinerary. If you and your team need to visit the branch office or store frequently, book a hotel near the place to avoid long commutes or drives and save money on transportation.
Aside from the location, look into the hotel amenities. As business travelers, it would work to your advantage to stay in a room with a free Wi-Fi connection, a working desk and comfy chair, and several power outlets for charging your devices.
Ideally, your hotel should also have a business center where you and your team can have access to printers, scanners, and other equipment and services you need to do your work.
Since relaxation and recreation should be part of your group's itinerary, choose a hotel with a pool, spa, fitness center, on-site restaurants, and other amenities that let you take it easy and have fun without leaving the property.
When you follow these tips, it'll be easier to plan a successful group business trip that will also give you and your fellow travelers time to relax and have fun.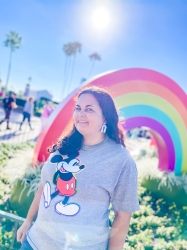 Latest posts by Krystal | Sunny Sweet Days
(see all)