Party Perfect: Planning an Unforgettable Event in Orlando
Welcome to Orlando, a thriving city where fantasies come true and spectacular experiences await! Orlando provides countless options to make your party extraordinary, whether commemorating a milestone, throwing a themed spectacular, or simply gathering loved ones for a special occasion.
We'll delve into the fascinating realm of event organizing in this guide. So, unleash your imagination, take advantage of Orlando's magic, and get ready to throw a party that will live on in the memories of your guests forever. Join us as we explore how to plan an event that will be discussed for years as we buckle in for an exciting journey full of creativity and fun. 
Set the Stage for Success
The ideal venue is the first step in planning any outstanding event. A key decision that creates the foundation for an exceptional circumstance is selecting the perfect location for your party. The setting establishes the mood, gives your visitors a place to mingle, and can improve the whole experience. You can choose the ideal venue to create the perfect atmosphere for an amazing party by considering capacity, location, facilities, and ambiance.
Orlando is awash in choices. Whether you want a stylish contemporary setting, a rustic outdoor setting, or a stately ballroom, finding a venue that matches your vision will enhance the overall atmosphere and create a cohesive experience. For instance, the London House Orlando is the only place to go if you want sophisticated European flair and an amazing experience.
Adopt an Entertaining Theme
A thoughtfully chosen theme creates the atmosphere for a memorable occasion. Orlando is a creative hotspot, so let your imagination soar! Adopt a city-centric mindset and use motifs drawn from its well-known landmarks. Bring Hogwarts to life with a magnificent Harry Potter theme, take your guests on a magical journey through the magical world of Disney, or transport them to the tropical paradise. Encourage attendees to wear theme-related apparel, decorate the venue appropriately, and create a uniquely immersive environment.
Wonderful Gastronomic Journeys
Any great gathering must include food, and Orlando's unique culinary industry provides many delectable options. Take into account fusion catering services that combine flavors from several cultures. Include foods that reflect the city's cultural diversity, such as Caribbean, Latin America, or South cuisines. Consider live cooking stations where visitors can personalize their meals or watch chef demonstrations for an interactive gourmet experience. Remember to complement the delicious food with imaginative, unique cocktails to fit your event's theme.
Extravaganza of Entertainment
Entertainment is the key to maintaining a positive attitude and lots of smiles. Why accept anything less in Orlando, known for producing the highest caliber entertainers? Employ skilled DJs, bands, or musicians to create a contagious mood encouraging everyone to dance. Consider including interactive experiences to add more excitement. Bring in roaming magicians to amaze your guests with mind-blowing illusions, entertain them with acrobatic displays, or put up a photo booth with themed items so they can capture special moments. Let your imagination go wild as you choose an entertainment schedule that will captivate your visitors.
Take Pictures That Will Last a Lifetime
Taking pictures of memories is essential in the era of smartphones and social media. Establish specific picture ops at your event, complete with themed props. Engage a professional photographer to capture beautiful group photos and candid moments. Consider setting up a photo booth so guests can instantly print their customized images to take home as souvenirs for more entertainment. To relive the experiences long after the night ends, encourage everyone to post their photos on social media using a specific event hashtag. Photographs capture the magic forever, whereas memories fade.
Unleash Surprises and Delight
With unexpected moments that take your event to new heights, wow and surprise your attendees and create a grand finale that will astound them. A mind-blowing fireworks show, a surprise performance by a famous local, or even a themed treasure hunt with concealed surprises are all excellent ideas. Add imaginative traps to your event to keep attendees guessing and foster awe. These unanticipated details will make your event memorable for them and keep them talking about it for a long time.
Enjoy the Festivities
It's time to let loose and enjoy when all the preparations are finished. Remember that as the host, your excitement and energy set the stage for a great event. Your enjoyment creates a vibrant and energizing environment. Spend time getting to know your visitors, having meaningful conversations, and fostering lifelong memories. Everyone will remember how much you truly enjoyed yourself, and it will help make the party a success in general. Cheers to a wonderfully unique occasion!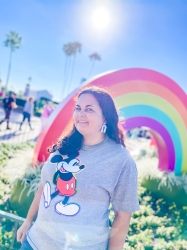 Latest posts by Krystal | Sunny Sweet Days
(see all)