Explore Florida on a Budget
If you've been putting off a trip to Florida because of budget constraints, this article is for you. Traveling to Florida doesn't have to break the bank. There are cheaper ways to travel around the Sunshine State. Here are a few tips on how to explore Florida on a budget.
Travel Out of Season
Florida is a popular vacation hot spot. That means visitors tend to arrive en masse at certain times of the year.
From December to April, the winter snowbirds from up north flock to the warmer South Florida weather. So, it's best to visit South Florida between July and early September. If you can cope with the humidity and rain, you may find great deals on flights and accommodation.
In North Florida, it's the opposite — summer is the busy season, so rather plan a winter trip.
For the best weather, both northern and southern Florida have moderate temperatures from April to May and September through November. However, note that hurricane season is between June and November, so be prepared.
Skip The Tourist Traps
Most first-time travelers to Florida are keen to visit the big attractions like Disney World, Miami, and other hot spots. If you are eager to see some of Florida's main drawcards, then increase your budget accordingly. Do a little sleuthing and you may still uncover some discounted rates to make your visit more affordable.
If, however, you'd rather avoid the tourist traps, then visiting the less popular Florida destinations often works out cheaper. Plus, you'll discover some interesting off-the-beaten-track towns and cities.
For a theme park experience, Weeki Wachee Springs State Park is one of Florida's oldest roadside attractions with water slides, kayaking, mermaid shows, and more. Want a city escape but without the madding crowd? Jacksonville is one of Florida's up and coming travel destinations with great beaches, outdoor activities, cultural diversity, and nightlife.
Set Alerts To Find Cheaper Flights
Now that you've decided when and where you're going, it's time to figure out the cheapest way to get there. If you're flying, set price alerts on travel sites like Expedia, Skyscanner, and Hopper to notify you when flight prices drop.
Booking well in advance can help score a better-priced flight. On the other hand, sometimes there are great last-minute deals when airlines need to fill the seats of cancelled passengers.
Always compare airline prices. Spirit Airlines is a no-frills airline that often gets a bad rap but if you temper your expectations, you can fly to Florida at a much lower cost on Spirit compared to most other airlines.
Fly To Smaller Airports
Major airports like Miami or Orlando are often more expensive to fly to. Check if there are flights to a smaller airport nearby that's cheaper.
For example, if you're visiting West Palm Beach, fly to Fort Lauderdale-Hollywood International Airport. From there you can take a 1-hour train ride to West Palm Beach. Both the flight and train ticket often costs less than a direct flight to West Palm Beach International Airport. If you're not in a hurry, it's the cheaper option and you'll enjoy a relaxing train ride along the coast.
Travel By Car or RV
As we're still in the midst of the Covid-19 pandemic, most people may opt to travel by car rather than plane to avoid the risk of getting the virus and skip the additional Covid-19 protocols at airports.
If you plan to visit more than one part of Florida, taking the car is also more convenient and may work out cheaper than paying for flights and local public transport. Going in an RV is even better as it saves on accommodation.
If you are roadtripping, there are plenty of apps to help you plan the fastest route, find cheaper gas, and locate nearby restaurants. HotelTonight can help you find amazing last-minute hotel deals. Yelp and Zomato are great for finding restaurants. For vegans and vegetarians, Happy Cow is useful in finding eating places that serve vegan and gluten-free meals.
Be aware that Florida has the most uninsured drivers in the country so it may be wise to add underinsured/uninsured motorist coverage to your car insurance to protect yourself financially. The last thing you want after so much meticulous planning to save money is to find yourself liable to pay for damages caused by an uninsured driver.
Look For Travel Packages
Because Florida is a popular travel destination, there are usually plenty of travel packages available. Ask travel agents if they are offering any discounts or packaged deals or search the web. Hotels sometimes offer special family rates or partner with local events, attractions or restaurants to offer discounted fees to guests.
Use Coupons
Florida has a lot of attractions and they're all vying for your attention. To draw visitors, many places offer promotional coupons.
Before you leave on your trip, do a quick internet search for discount coupons on attractions, restaurants, hotel bookings, and retailers. If you are a student, senior, work for the military,or a member of AAA, always ask if there are any discounts you may qualify for.
To make planning your trip to Florida easier, we at Budget Your Trip have done some research on costs to help you travel Florida on a budget. Our guide provides an indication of travel costs to Florida, accommodation, and daily expenses such as food, entertainment, and public transport.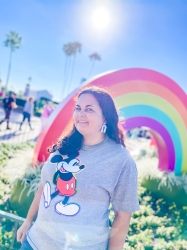 Latest posts by Krystal | Sunny Sweet Days
(see all)