Travel Essentials to Pack in Your Carry-On Baggage
When traveling, packing the right items in your carry-on bag can make all the difference between a hassle-free, enjoyable journey and one filled with stress and inconveniences. To ensure that you have everything you need, it is essential to plan ahead and pack the travel essentials according to both your travel itinerary and your personal needs.
For instance, if you know that the destination point has stricter regulations regarding selling vaping products than in your local area, you might want to stock up on some of your favorite e-liquids to bring with you. Or if you have an allergy or are taking any supplements, you should remember to adjust your first aid kit accordingly.
Whether you're taking a short flight or a long-haul journey, there are certain items that you should always have in your carry-on baggage. From essential documents to must-have toiletries, here's a list of travel essentials to make sure you don't leave home without:
Documents
The first thing you need to do when packing for a trip is to gather all the essential documents you will need for your destination. This includes your passport, visa (if required), tickets, and travel insurance. If you're traveling with young children, bring along their birth certificates as well.
Depending on the country you're traveling to and your itinerary, you might need to prepare some additional papers before setting off, for example:
If you're renting a car, you will need to bring your driver's license and an international driving permit (if required).
Vaccinations are often required for travel to certain countries, so check if you need any before your trip.
Some countries still require a negative Covid-19 test result before letting you enter.
Remember to pack your business cards and other relevant documents if you're going on a business trip. It's also a good idea to make copies of all your important documents and store them separately from the originals, just in case you lose them while on the road.
Toiletries and Medications
Next on the list of carry-on essentials are toiletries.
Pack the basics like toothpaste, toothbrush, deodorant, and shampoo, but also consider bringing along items like face wipes, hand sanitizer, and lip balm. If you have any special skincare needs, pack those products as well.
Keep in mind that there are strict rules and regulations regarding bringing liquids, gels, and aerosols on an airplane, so be sure to pack them according to the 3-1-1 rule: 3.4 ounces (100 milliliters) or less per container, one quart-sized clear plastic bag, one bag per passenger.
And remember to pack your medications!
Whether you take prescription drugs or over-the-counter medication for allergies or pain relief, make sure you have enough to last the entire trip, plus a little extra in case of delays. If you have any specific medical needs, bring along a doctor's note detailing your condition and the medications you take.
Clothes and Shoes
Of course, you will need to pack some clothes and shoes for your trip. When choosing what to bring, consider the climate at your destination and the activities you will be doing while there. For instance, if you're going on a beach vacation, pack light, airy clothes and swimwear, but if you're planning to hike in the mountains, make sure to bring appropriate footwear and clothing.
You should also have a few items that can be layered, like a cardigan or a scarf, as the temperature can change unexpectedly.
Entertainment
To make sure you don't get bored during long flights or layovers, pack a few items to keep you entertained. This could be a book, an e-reader, your laptop or tablet, or even just a good old-fashioned Sudoku puzzle book. And, of course, if you're going to a country with a different voltage than your home country, remember to pack a travel adapter so you can charge all your devices.
If you're traveling with young children, bring along some toys and coloring books to keep them occupied as well.
Some other items that can come in handy when traveling are:
An eye mask and earplugs to block out light and noise on long flights or in hotel rooms.
A neck pillow for added comfort when flying or driving.
A travel blanket or shawl to keep you warm on chilly flights.
To Sum Up
When packing for a trip, it is essential to be prepared and bring the right items with you. From necessary documents to toiletries and medications, as well as entertainment and clothing, there are many things to consider packing in your carry-on baggage.
These are a few of the many items you should consider packing in your carry-on baggage. Of course, the exact contents of your bag will depend on your individual needs and the specifics of your trip. But as long as you remember the essentials, you'll be well on your way to a stress-free journey. Happy traveling!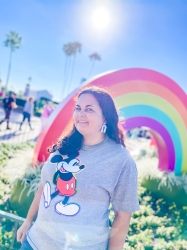 Latest posts by Krystal | Sunny Sweet Days
(see all)