Last Minute Date Ideas: Free Date Nights
Valentine's Day is approaching, which means it is time to start thinking about how you and your sweetheart will celebrate! If your budget is tight, you should know that you can still create a fun evening even on limited funds! Look at these 7 free or cheap date night ideas for couples, so you can still enjoy a fun Valentine's Day even with limited cash!
 
Free Date Night Ideas
This is a date night concierge service that is tuned into romantic and unique ideas for you no matter where you live! Crescent offers a variety of pricing options, ranging from $2.99 to $14.99. You can receive one free date suggestion each month with no need to spend time researching, planning and booking the perfect date – they do all the work for you.
How it works: 
Request: Pick a date, time and a few preferences and we'll start researching the perfect date! We take special care to try to find hidden gems in your area.
Review: Soon, we'll send over our suggestions. Take a look and let us know if you'd like us to book or revise
Romance: Once you're satisfied, we'll book the dates (Deluxe Package) and send you the relevant tickets and itineraries. The rest is up to you!
If you want to try to book your own dates and have the time to think up ideas, here are a few thought starters to get you going:  
1. Enjoy coffee and a bookstore. Find a local bookstore (bonus points if it has a café!) and head over for a coffee and some book browsing. This is a cheap way to spend time together in a relaxed and warm setting! Check the Barnes and Noble app for coupons good at their café and for book discounts as well.

2. Attend a local college or high school concert. If you live near a community college, check and see if it is offering any live entertainment. You can often find free concerts and plays, or if a ticket is required they are usually cheap. Check the websites of local colleges and even high schools to find cheap entertainment near you. 
3. Take a historical tour. If you live near a historical district, see if any tours are being offered. Often times these tours are funded by grants so you can get access to them for cheap or even free. Take a historical tour and learn more about the town around you while saving cash.
4. Enjoy a themed dinner at home. Save cash and make your own romantic meal at home. Choose a theme such as Chinese or Mexican and cook accordingly. You can even make your own inexpensive décor to really make the meal festive. Head to Pinterest for all sorts of themed dinner ideas. Use my pork taco recipe and download my Taco Bar checklist to help inspire you!
5. Volunteer somewhere together. Share the love you have for each other with others! Pick a place to volunteer at such as a community shelter or animal rescue. This way you can give of yourself to others while still spending time together doing something good. Use your local community Facebook group or the Nextdoor app to find neighbors that may need assistance or ask if they have any leads for what is a good organization to start with.
6. Go ice skating or roller skating. You can typically rent roller skates or ice skates for just a few bucks per hour. This is a fun way to be active together while saving some cash. If you don't have a skating or roller rink, why not try sledding or some other outdoor activity you can enjoy without spending a ton.
7. Try DIY massages. Head to YouTube and learn some simple massage methods. Then give your new skills a try! Practice your massage skills on each other while saving nearly $75 an hour, which is the cost of most spa massages. Turn on relaxing music, grab a cozy blanket, and get going!

8. Host a craft beer tasting. We love a good local craft beer. Host your own craft beer happy hour and sample different brews. Keep costs down by looking for local beers at your local gas station. I know it sounds crazy, but my husband always finds canned local beers for a few dollars that we can share!
9. Have a wine night at home. One of my most popular posts on this blog is about having a Dollar Tree Wine Night! Gather your supplies, pick up your favorite Two Buck Chuck from Trader Joe's (or find other wines at ALDI for budget-friendly options).

As you can see, you have lots of fun options when it comes to celebrating Valentine's Day on a budget. Consider these 7 free or cheap date night ideas for couples and see if they can't add some frugal spark to your holiday! I also have a list of 50 date night ideas if you need more!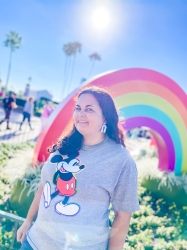 Latest posts by Krystal | Sunny Sweet Days
(see all)